Next Departure

Feb. 19, 2025

See all departures

Duration

13 days

See the itinerary

Activities

,

Kayaking

,

Lectures

,

Photography

,

Zodiac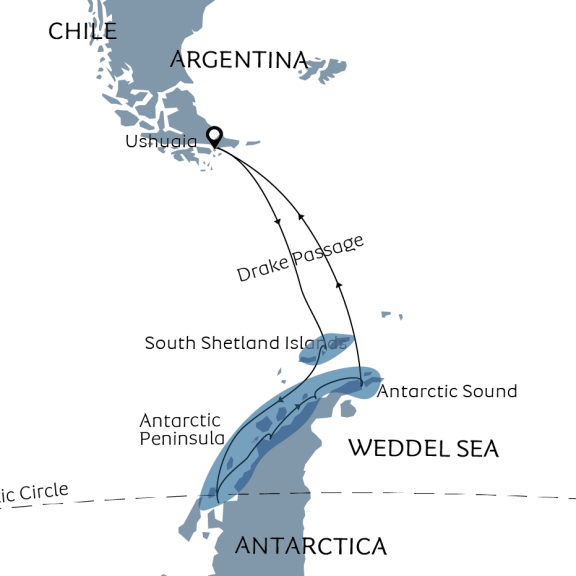 Join our 13-day Antarctica Explorer voyage, our lengthiest Antarctica-only cruise, where we will discover the stunning scenery, glacier-clad peaks, and extraordinary wildlife of the Great White Continent. This expeditionary escapade promises to be one-of-a-kind, as we will have no predetermined schedule - a genuine exploratory expedition, experiencing Antarctica as it was meant to be!
Prepare for the ultimate Antarctic adventure on board Ocean Albatros, one of the world's most technologically advanced expedition vessels! After navigating the serene Beagle Channel, the real adventure begins as we enter the infamous Drake Passage, where the frigid Antarctic meets the warmer waters of the Atlantic and Pacific Oceans. Brace yourself for a challenging yet exhilarating journey as we cross this infamous body of water, but fear not! Our purpose-built vessel is equipped with stabilizers, powerful engines, and the patented reclining X-Bow, which provides comfort and stability in rough seas while boasting very low fuel consumption. The most spirited sailors consider crossing the Drake Passage a lifetime achievement - and you will complete the crossing twice! And as we sail through these nutrient-rich waters, get ready to marvel at the abundance of seabirds, albatrosses, and whales we may pass.
As we weave through the South Shetland Islands, a glittering chain of ice-covered islands and dormant volcanoes, keep your eyes peeled for whales, sea lions, elephant seals, and an incredible amount of seabirds and penguins. Our expedition will include numerous Zodiac excursions and landings, allowing us to explore these magnificent lands up close.
But that's just the beginning! We'll continue onward to the awe-inspiring beauty and peaceful silence of the Antarctic Peninsula itself. This voyage has no set itinerary beyond the aim to reach the Circle - however, we always aim to visit locations which showcase the best of Antarctica; wildlife sightings and weather conditions will decide the exact sites we visit as we move with the rhythms of nature; perhaps a well known penguin colony will draw us west, and whale and seal sightings will draw us back again! Wherever the whims of Mother Nature take us, jaw-dropping scenery and landscapes are guaranteed! We could journey to the mighty tabular icebergs of the Weddell Sea, explore the seldom-visited lands south of the Antarctic Circle, or even visit manned research stations in the most isolated places on Earth. One thing's for sure – we'll encounter fantastic wildlife and embark on a real adventure.
With an extra two days to explore compared to our Classic Antarctic voyages, you will have even more time to experience the majesty of the White Continent. Dense pack ice forbids many ordinary vessels from reach too far south, but with a PC6/1A ice rating, Ocean Albatros can access areas off-limits for most ships to explore deeper and experience more of Earth's last frontier. With an average occupancy of 175 guests aboard Ocean Albatros, our cruises offer a unique experience for the brave few.
Don't miss out on this once in a lifetime opportunity!
Facts about The Antarctica Explorer















DAY 1
ARRIVAL USHUAIA, EMBARKATION
Arrive in Ushuaia, Argentina - the world's southernmost city. Explore this vibrant Patagonian city, or stretch your legs in the surrounding forests. Alternatively, consider a day trip off the beaten path into the raw nature of Tierra del Fuego. The island of Tierra del Fuego is a hiker's paradise with rugged snow-capped mountains, glaciers, flower-filled meadows and rich boggy wetlands. In the afternoon, we board our vessel, waiting to welcome us in port.
After our mandatory safety drill, our expedition begins as we navigate through the calm waters of the famous Beagle Channel (named for Charles Darwin's ship). This steep-sided strait divides southern Tierra del Fuego between Chile and Argentina, and has been the jumping-off point for thousands of expeditions into the unknown. Watch out for whales and dolphins as we sail off the edge of the map into the tempestuous Drake Passage.
DAY 2-3
AT SEA - CROSSING THE DRAKE PASSAGE SOUTHBOUND
Sailing onward, we cross the famed Drake Passage - the body of water separating Patagonia and the Antarctic Peninsula. The Drake Passage is known for rollicking conditions and strong westerly winds, nicknamed the Roaring Fifties. While this passage may be challenging, you can rest comfortably aboard our expedition vessels, which are purpose-built with stabilizers, powerful engines and manned by a highly-qualified crew. The most spirited sailors consider Drake Passage a lifetime achievement - and you will complete the crossing twice!
Our days in the Drake Passage will be put to good use preparing for our arrival in Antarctica - your Expedition Leader will brief you comprehensively on how to stay safe and minimise your impact on this precious wilderness, as well as briefing you thoroughly on our plans for our time spent exploring, including hints and tips for wildlife watching. Our dedicated Expedition Team will assist you to biosecure your clothing and equipment (a vital process to protect Antarctica's delicate ecology), as well as sharing tailored lectures on Antarctic exploration history, wildlife, geology, glaciology and more! 
We will cross into the Antarctic Convergence on the third day of our voyage - watch the mercury plummet as we sail southwards into Antarctic waters, an abrupt cooling that marks the intersection of Antarctic waters with the warmer waters of the Atlantic and Pacific Oceans. As the sea cools, wildlife multiplies; these are some of the most biologically productive water on Earth, so expect to see petrels, albatrosses and potentially penguins, seals and whales in abundance. Weather permitting, we may be able to make landfall in the South Shetland Islands (a small but spectacular archipelago to the north of the Antarctic Peninsula) on the afternoon of our second day in the Drake Passage, marking the start of our exploration on the Last Continent. 
DAY 4-10
THE ANTARCTIC PENINSULA - ADVENTURE AWAITS
With no set itinerary in Antarctica, this voyage offers adventurous travellers the chance to experience Antarctica as it was meant to be - flowing with the wind, sea and ice, and taking the best opportunities Mother Nature provides. This voyage departs in the first half of the brief Antarctic summer, when sea ice is at its maximum - this offers us ample opportunities to explore in the icy wilderness of the last continent. Our exact route will be subject to careful planning by the Expedition Leader and Captain - however we will aim to visit a range of sites which showcase the best of this staggeringly beautiful region. 
Marvel at the massive icebergs and vast glaciers on a Zodiac cruise in Paradise Bay. Be moved by penguins tenderly caring for their precious eggs, and fiercely defending their nests on Cuverville Island. Watch cataracts of ice tumble into clear blue ocean on a hike over the active glaciers of Neko Harbour. Experience the Antarctica of old at historic huts such as Damoy Point, lovingly restored and open to all. Feel the spray of water from the blow of a humpback whale on a Zodiac safari in Wilhelmina Bay. Wonder at awe-inspiring scenery on a ship cruise through the Lemaire Channel. Watch city-sized tabular icebergs drift silently past the ship in the Antarctic Sound. Wherever we go on the Antarctic Peninsula, endemic wildlife, tantalising history and breathtaking natural beauty abound.
This time of year, expect to see penguins carefully tending their fluffy chicks, while their partners frantically hunt for food at sea. As the snow melts, opportunities for hiking onshore increase. Antarctic fur seals start to arrive in their summer feeding grounds, and humpback whale numbers increase as more of these gentle giants arrive at the end of their long migration. With luck, we may even see the young of these gentle giants. Perhaps the ice will retreat far enough to allow us access to the unknown islands south of the Antarctic circle - where the midnight sun never sets. 
There is no set itinerary on this trip, which allows our staff onboard to maximize the experience for all onboard. Whilst our suggestions above are just possible routes and landings, we can be sure that this will be the ultimate Antarctic experience.
DAY 11-12
At sea - Crossing the Drake Passage northbound
We eventually depart Antarctica, and spend two days at sea on our way northwards back across the infamous Drake Passage towards the more welcoming shores of the Beagle Channel and Ushuaia, Argentina. During our time at sea, a variety of activities will be arranged on board to provide our guests with the chance to reflect on their voyage. Relax with an expertly crafted cocktail in the Nordic Bar in the company of new friends, soak up the knowledge and passion of our Expedition Team during lectures in the Shackleton Lounge, or simply enjoy the flight of the albatross which accompany us northwards. 
During your last evening onboard, join the Captain and Officers for the Farewell Cocktail Party, followed by a presentation of photos and video by our onboard photographer - the ideal opportunity to re-live your Antarctic adventure. Skål! 
DAY 13
Return to USHUAIA AND DISEMBARKATION
On the morning of the final day of our voyage, we will arrive back at the pier of Ushuaia, Argentina. Trees, grass and a busy city may seem strange to you after the white wilderness of Antarctica! After a hearty breakfast, it is time to bid a fond farewell to the Crew and Albatros Expedition Team, and descend the gangway back to dry land with memories of the voyage of a lifetime. 
Inclusions
• 13-day/12-night cruise with accommodation in a shared outside double stateroom with private facilities
• Ushuaia shuttle transfers to ship from city centre (embarkation) / from the ship to city centre or airport (disembarkation, morning)
• All Zodiac landings and excursions as per itinerary
• Expedition parka
• Rubber boots in assorted sizes, suitable for shore landings (loan)
• Guiding and lectures by our expedition leader and team
• Special Photo Workshop
• English-speaking expedition team
• Visual Journal link after voyage including voyage log, gallery, maps, species list and more!
• Full board on the ship - breakfast, lunch, dinner and afternoon snacks
• Complimentary house wine, beer and soda at dinner (selected labels and brands, served at our a-la-carte dinners)
• Free tea and coffee 24 hours' daily
• Welcome and farewell cocktails
• Port fees, IAATO fees, taxes and tariffs
Exclusions
• Flights
• Travel and Cancellation insurance
• Extra excursions and activities not mentioned in the itinerary
• Single room supplement and stateroom upgrades
• Meals not on board the ship
• Beverages (other than mentioned under "included")
• Tips for the crew (approx. USD 16 per person per day)
• Personal expenses
• Anything not mentioned under 'Inclusions'
Travelling to the Falklands, South Georgia and Antarctica
After crossing the Southern Ocean, your vessel will arrive in the Falklands Islands, South Georgia and eventually Antarctica. The goal for the days spent exploring in the Southern Ocean is to offer activities which will allow everyone to explore off the ship as much as possible (weather permitting). Weather dependent, we will try to offer two activities per day, usually either a landing or a Zodiac cruise.
Typically, there will be a morning activity after breakfast and an afternoon activity after lunch. We always try our hardest to meet this expectation, but because weather in the Southern Ocean can be extremely unpredictable, we ask everyone to be mindful of our remote location and thank everyone in advance for their flexibility. Activities we offer include landings, Zodiac cruises and ship cruises. Regulations* in Antarctica and South Georgia limit the number of people ashore at any time, so we will usually aim to offer a Zodiac cruise while our first group of guests are ashore, and reverse this for the second group ashore to maximise exploration time. No matter the day's planned activities, the onboard Expedition Team and Expedition Leader will work as hard as possible in conjunction with the Captain and Crew to maximize exploration opportunities
Some sites do not offer landing opportunities, but are locations where exploring on the water offers the best opportunities for sightseeing, wildlife and photography. These Zodiac cruise sites are often known for their collection of larger icebergs, wildlife densities and even historical landmarks such as shipwrecks, where our fleet of Zodiacs offer the best vantage point. This would be the only scenario you may have to wait on the ship (other than in adverse weather conditions), but we will always aim to offer an onboard program during this time, such as seminars given by our knowledgeable and experienced Lecturer team.
*IAATO rules/regulations state that: Avoiding disturbance of wildlife is paramount. There may be no more than 100 visitors ashore at any time, exclusive of expedition guides and leaders, with a maximum of 20 visitors for each guide. Albatros Expeditions is a member of IAATO (International Association of Antarctic Tour Operators), an industry regulatory body dedicated to ensuring socially and environmentally responsible tourism in the Antarctic region.
A "typical" expedition day may look like this (subject to weather and sea conditions and sailing schedule):
·         0645: Wake-up call
·         0700-0800: Breakfast
·         0830-1130: Morning activity - Landing and Zodiac Cruise
·         1230-1330: Lunch
·         1430-1730: Afternoon Activity - Landing and Zodiac Cruise
·         1830-1930: Evening Recap with Expedition team
·         1930: Dinner
·         2100: Evening entertainment or presentations with Expedition team.
Landings are a great opportunity to stretch your legs and set foot on shore to visit the dense penguin rookeries, seal colonies, and dramatic landscapes of South. Our experienced Expedition Team will be on shore to help you spot any chicks, identify the different species of penguins and other wildlife, as well as keep our guests safe on shore from any potential hazards. 
Zodiac cruises are great for observing icebergs, glaciers, whales, and other marine wildlife. Your skilled driver will navigate around the area looking for wildlife and beautiful landscapes. By the end of the voyage, Zodiac cruises tend to become a firm favourite among our guests because of the vast diversity of scenery and marine life it is possible to experience. 
Ship Cruises: In the event we encounter bad weather or are in a particularly spectacular location, often our purpose-built expedition vessels are the best viewing platform. The Captain and Expedition Leader will search for locations best accessed with the vessel to seek out the best wildlife and scenery. We encourage everyone to bundle up and either head onto the outer decks with the Expedition Team or relax in superlative comfort in our specially-designed lounges to experience the majesty of the Antarctic from the best vantage point. During this time, our Expedition Team specialists will offer skillfully-crafted lectures related to the wildlife, history and conservation of the region, and more! 
Other activities include our ship Gym, where you can burn some calories on our fitness bicycles or treadmills; most of our ships even have other cardio machines and strength/lifting options. Voyages in from October to December offer camping options to spend the night on Antarctica, whilst most voyages throughout the season also offer kayaking (booked and paid onboard – weather permitting). Snowshoeing will also typically be available during the first half of the Antarctic season, when the Peninsula is mantled in snow. Sometimes our staff will even offer yoga lessons or other leisure activities, as our flexible schedule allows. Our new purpose-built ships have a Spa, in which guests can enjoy massages, facials, and other relaxing treatments (additional cost applies). Our Library is a great place to rest between outings, with expansive views and a wide selection of Antarctic-related reading material. During your voyage you will also be able to enjoy our tea time in the late afternoon, or indulge in some retail therapy in our onboard shop, which sells personal necessities as well as specially-selected Antarctic souvenirs.
Food and drink
In between our landings and activities we offer three hearty daily main meals. Albatros Expeditions always have allergy flexible options, healthy selections as well as a variety of vegetarian and vegan options.
Our hardworking galley crew deliver multiple Breakfast options, served in a buffet style a cooking station where eggs are made to order.  At Lunch we are also met with a smorgasbord of mouthwatering choices. Safe to say you will have the energy for your next outing!
When it is Dinner time, you can choose to eat at the main restaurant or book a table at the Specialty Restaurant. Your evening meal is served a la carte, with fresh new options daily and always a selection of fixed items. There is always a vegetarian and pescetarian option available. Albatros Expeditions are known for our delicious menus and a variety of exquisite wine pairings.
Onboard you will also have the option to join Afternoon Tea with sweets, cakes or snacks served each afternoon. Albatros Expeditions have tea and coffee freely available all day throughout the vessel, while specialty coffee, alcoholic beverages and hand-crafted cocktails are available at the ship's bars.
Seasonal changes in Antarctica:
During October to November visitors to Antarctica can expect to see penguins coming ashore for their annual nesting season. This is the time when these birds build nests, court mates and tend their precious eggs, offering a fascinating glimpse into the lives of these charismatic birds. While still a little early for penguin chicks to have hatched, November offers the potential to see the very first hatchlings. Pristine snowy landscapes, large icebergs and lack of late-season vessel congestion can be experienced in the beginning of the season, offering a radically different experience to the high season. Unbelievable glacial ice formations and huge ice bergs stud the ocean as the last sunsets of the season occur, a majestic spectacle eventually giving way to the Antarctic midnight sun.
In December temperatures approach their warmest, daylight is longer and wildlife is even more active. The continent glows under the midnight sun and the penguin rookeries reach peak activity as the hatching starts in earnest. Whale sightings begin to be more commonplace as migrating whales arrive to feed. Midnight sun with close to 24-hour daylight occurs in this period, lighting up the patches of snow that are still left at sea level. The sea ice is also retreating, potentially allowing access to landing sites further South.
By January/February, we enter what we call 'peak season' with long daylight hours and flocks of fluffy penguin chicks. There is more activity in the colonies as parents head off to hunt for food for their ever-hungry young. Towards the latter part of this period, the chicks get more curious and mobile, often hanging around in 'creche' groups as their parents head out to sea. The added penguin activity also means that some of our landing sites become muddy and slushy in the height of the Antarctic Summer. Sea ice starts to break up in earnest, which allows vessels to venture further south, enjoying improved opportunities for whale and seal watching. Longer sunsets and shorter evenings return towards the end of February as the brief Antarctic Summer gives way to Autumn.
As we enter March/April the season starts to wind down. Whilst the whales are at their highest number, ferociously feeding to get ready for their long northward migrations, the penguin colonies start to thin out as the adorable chicks shed their bay feathers to begin adult life out in the fury of the Southern Ocean. This attracts leopard seals, which are often seen actively hunting in the clear waters just offshore. Spectacular sunsets and less snow make this a great time for photo opportunities and longer walks onshore. During this time of year the weather begins to get colder and there is an increased risk of storms, but the wild rugged beauty of Antarctica approaching Winter is unparalleled throughout the year.
Seasonal changes in South Georgia:
As springtime arrives on South Georgia, visitors can expect to witness the landscape transform as the snow and ice begin to melt, and the flora and fauna come to life. November is an excellent time for birdwatching, as many seabirds begin to return to the island to begin their nesting season. Keep an eye out for gentoo, king, and macaroni penguins as they make their way ashore to raise the next generation while bulky Antarctic fur seals come ashore to stake out their mating season territories.
As the temperatures continue to rise, the island becomes even more vibrant. December on South Georgia represents the start of the brief Antarctic summer, and offers a terrific time to explore the beaches and experience this island's extraordinary biodiversity. From a distance you can witness the elephant seals as they begin to mate and give birth, and watch as the king penguins hatch their chicks. Meanwhile, female fur seals come ashore to give birth to their tiny pups; despite being only days old, these adorable creatures must fight daily to ensure their survival in the harsh and crowded environment of South Georgia.
As the peak of summer arrives in January and February, wildlife activity increases even more under almost perpetual daylight. January usually offers the best weather and is a great time to explore the incredible coastline and witness the jaw-dropping mountain scenery of South Georgia. As always when visiting South Georgia, we expect to see a wide range of wildlife, including fur seals, albatross, and vast penguin colonies. Many species are actively raising their young during this time, making for a fascinating spectacle as parents come and go from the sea to feed their growing offspring. The summer weather means that the beaches are generally dry and free of snow, making them somewhat easier to access. As the summer starts to wind down in late February (although the weather is generally still warm and sunny), the island's wildlife remains active and numerous. Summertime is an excellent period to explore the South Georgia's historic sites, including the former whaling station of Grytviken, the final resting place of legendary polar explorer Ernest Shackleton. The calmer weather of midsummer also often provides better conditions for other activities such as kayaking and Zodiac cruising.
As Autumn sets in during March and April, visitors to South Georgia Island can expect to see the landscape change once again as snow returns to the mountains. Many species are preparing for migration, and beaches burst into frenetic activity as they try to fatten up in preparation for the brutal southern Winter. Other species prepare by coming ashore for their annual moult, while this year's young shed their baby fur/feathers in preparation for a life at sea. March an excellent time to see whales such as the humpbacks and other whales which pass through the area in pursuit of krill, and offers superior birding as fledglings begin to leave their nests. Visitors can also witness the spectacular colour-changing Autumn foliage and enjoy the cooler weather. As the season winds down, the number of visitors also decreases, making excursions more intimate and allowing preferential access to the most popular sites.
Seasonal changes in the Falkland Islands:
In October and November, the windswept shores of the Falkland Islands begin to come to life as seabirds come ashore for the Spring breeding season after spending the long winter months in the fury of the Southern Ocean. The shoreline crawls with rockhopper penguins emerging from the depths, while albatross circle overhead, hunting for the best spot to construct their cylindrical nests. During this time of year, female elephant seals come ashore to give birth to their wide-eyed pups, which remain ashore for two months or so before heading out to sea. The islands burst into activity on land as well, as geese and other terrestrial birds begin to nest. The Falkland Islanders themselves frequently take advantage of the warmer weather to begin shearing the islands' sheep, collecting the wool for which the islands are famed.
December represents the start of summer in the Falklands; while the weather can be warm and sunny, frequent windstorms can bring squally weather at any time. By this time of year, the birds of the islands are almost all incubating their eggs, while some early arrivals may already have chicks. Meanwhile, South American sealions are vigorously defending their territories during the busy breeding season, attempting to attract females while fending off other males.
By January and February, most eggs have hatched, and you can expect to see a variety of hatchlings beginning to find their way in the world. Penguin chicks huddle together in creches against predation from skuas, giant petrels and caracaras, while large fluffy albatross chicks sit on top of their cylindrical nests. Bird colonies at this time of year are full of activity, with parents coming and going from the open ocean to feed their chicks, and Magellanic penguins and their chicks begin to emerge from their breeding burrows.
The Falklands' brief summer comes to an end in March, and much of the island's wildlife begins to prepare to head out to sea for Winter. Around this time of year, penguins and seals begin their moult, spending a few weeks on land while they grow a new coat of winter-ready feathers. One can also see albatross, cormorant and penguin chicks beginning to shed their downy baby feathers in favour of their adult plumage. Watch out for broad-winged albatross flapping into the wind on their nests as they exercise their flight muscles ready for adult life. Although the weather can be less predictable this time of year, fewer vessels in the region allows us to seek out the most sheltered landing spots.
Temperatures in Antarctica/South Georgia:
Whilst the weather in Antarcrtica is constantly changing, the summer months can be surprisingly mild, and generally have temperatures ranging from -2°C (28°F) to 6°C (46°F). In South Georgia, which lies to the northeast of the Antarctic Peninsula, temperatures typically range between 0°C (32°F) to 10°C (50°F); sub-zero summer temperatures are very rare. In the more temperate Falkland Islands (which lied outside the Antarctic convergence zone), the weather is milder, with summer days averaging between 11°C (52°F) to1 6°C (61°F).
The extended daylight during the summer warms up more sheltered areas and on calm windless days even this far south, and a t-shirt can even be of more use than a parka! Bearing that in mind, the weather can harbor storms, snow fall, rain or fog, which can occur at a moment's notice. Bigger storms are rare but can lead to further rapid drops in temperature, and glacially-generated katabatic winds can blow out of nowhere. On South Georgia, ocean swells can roll in from the sea without warning, which can make landing/disembarkation conditions extremely challenging. The Falkland Islands, while warmer, can experience extremes of rain, wind and sun (often all within the same hour). In other words, we would remind our guests that it is crucial to be ready for any weather conditions! Waterproof layers are an essential for any venture off the ship in this part of the world, and we advise guests to dress in several warm layers (including hats, gloves, scarfs and sun protection) to adjust as the weather dictates. Even in calm warm weather, we advise to bring extra clothing in a backpack, as weather conditions can deteriorate rapidly.  
Travelling with Albatros Expeditions
Albatros Expedition strives to employ the very best Expedition Team in the whole industry. We travel in some of the planet's most remote regions, where planning and on-location experience is key. Our routes and itineraries are subject to the prevailing sea, ice and wind conditions, which are closely monitored by the Bridge Team and Expedition Leader. Drawing on their vast experience, they find the best alternatives in the rare instances where our planned itinerary needs to be changed. Each cruise is a completely unique combination of locations, where the highlights can often be the totally unexpected. Most of our cruises provide the opportunity to spot a variety of unique wildlife, although this is subject to the whims of Mother Nature and can of course not be guaranteed. As you will no doubt experience, the joy from our Expedition Team when spotting different species on land or at sea is as genuine as your own.
This means that you as our guest are part of an adventure, a true expedition, where plans change, wildlife is encountered on their terms and your team consists of the very best experts within their fields. We strive to maintain a mix of specialists within relevant polar subjects including marine biology, ornithology, earth science, history and others. Albatros Expeditions boast a large number of Expedition Staff onboard, allowing us to maintain a high quota of staff-to-guests at 1:8, amongst the highest ratios in expedition cruising. Some of our staff have decades of experience on ships or research stations, whilst others may be performing their first season. One thing they all have in common is the wish to make each and every journey a special and memorable experience for our guests. Knowledge, skill, and passion are the trademarks of all Albatros Expedition Staff.
To ensure the safety and quality of experience of our guests, please keep in mind that the itinerary and outdoor activities during each voyage are solely dependent on weather and sea conditions. Your safety is our highest priority. The route and shore landings will be determined by the Captain and Expedition Leader and communicated to guests through regularly scheduled briefings. Albatros Expeditions reserves the right to modify the landings and locations visited during a voyage based on local weather conditions and climate to ensure a safe and enjoyable experience for all our guests. Our voyages are expeditionary in nature, and thus changes to timings are commonplace due to the environment we operate in, as well as wildlife opportunities and locations.
Optional excursions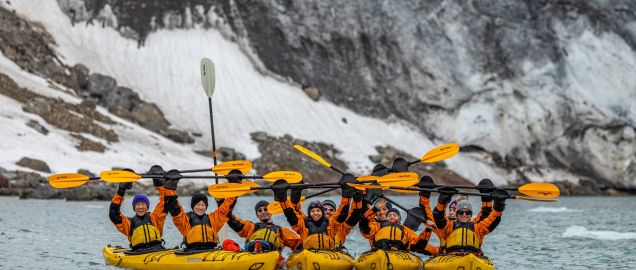 Glide through the waters and take in the royal grace of the icebergs, see the varied birds and seals, and maybe even the whales in their natural habitat under the supervision of experienced kayak guides, who will...
Departure dates
C Cabin price 16.995 USD per person in a shared DBL/TWN cabin
Expedition activities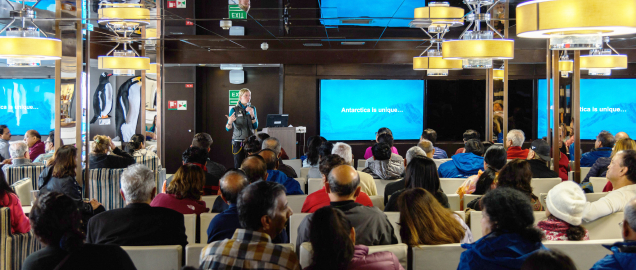 Our primary focus is knowledge, and we apply this to every aspect of a journey. From the staff that forms our expedition team, to the routes our ship follows, and of course, the program onboard.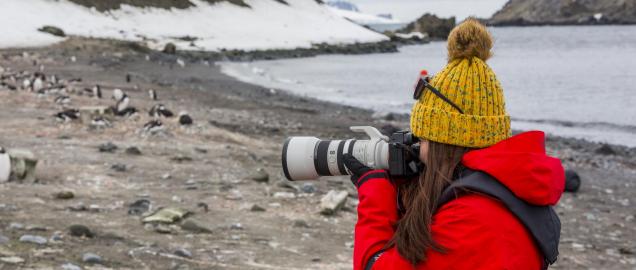 We always have a dedicated expedition photographer onboard to document the voyage and share their passion for photography through lectures and during landings and zodiac cruises.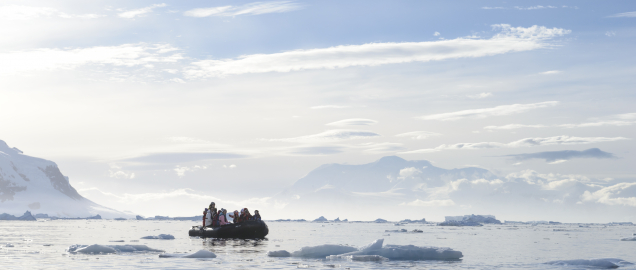 Essential for expedition cruises, Zodiacs are robust boats that can go up on a beach, a rocky outcrop, a river bank or even an ice floe push through bergy bits of ice floating in the water. This is definitely one...