Explore our expedition voyages to the Arctic region, all designed to engage your heart, mind, and spirit through the duration of the journey.
The Arctic polar region is located in the northernmost part of Earth and is bordered by the subarctic. 
It is one of the most unique areas amongst the Earth's ecosystems, but the indigenous people have learned to adapt to its cold and extreme conditions.
The word "Arctic" comes from the Greek word "arktikos" - near the bear, and from the word "arktos," meaning bear.
Area of Arctic
14.5 million km²
Population of Arctic
4 million people
Facts about Arctic
That the average temperature during the summer is 0 to -28°C, and in the winter it is -46 to 60 °C?

That the largest iceberg ever discovered was 100,00 km², which is bigger than Jamaica?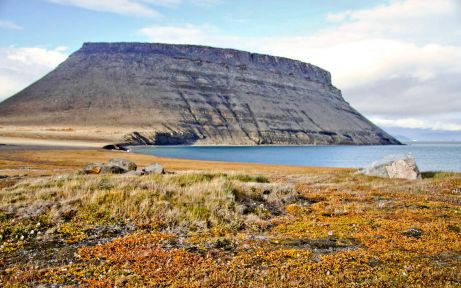 Geography of the Arctic
The Arctic is the northernmost region of Earth and is dominated by the Arctic Ocean Basin. Most scientists describe the Arctic as the area within the Arctic Circle, a line of latitude about 66.5° north of the Equator. The Arctic is almost entirely covered by water, much of it frozen. Some features, such as glaciers and icebergs, are frozen freshwater.
However, because the Arctic ocean absorbs so much more solar radiation than the Antarctic ice sheet, the Arctic is much warmer than the Antarctic. In fact, its geography and wildlife are highly diverse with some areas remaining practically ice-free all year round, while similar latitudes elsewhere are primarily ice-covered.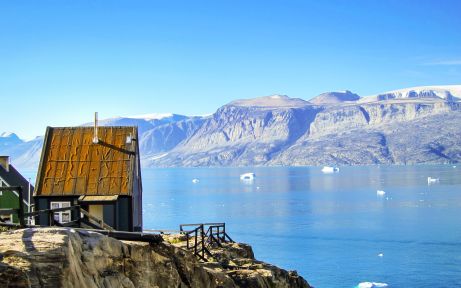 The Countries of the Arctic
Tromsø, Norway, is the second-largest city north of the Arctic Circle and has become popularly known as the Arctic's capital thanks to its size, rich history, and diversity. Inhabited since the end of the last Ice Age, Tromsø is home to 58,000 people of more than 100 different nationalities.
Canada, Greenland, Iceland, Norway, Sweden, Finland, Russia, and the United States are all a part of the Arctic, and the currency used corresponds to the region in question. Canada (CAD), Greenland (DKK), Iceland (IKR), Norway (NOK), Sweden (SEK), Finland (EUR), Russia (RUB), and the United States (USD).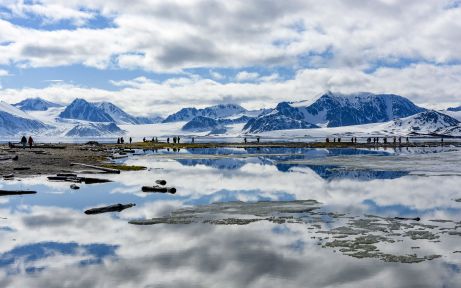 Our Arctic Expeditions
Albatros has been sending travellers to the Arctic season for three decades. Our expedition cruise ships have been carefully selected to provide the ultimate expedition experience in polar regions.
There are few wilder, more magnificent, and untouched places than the Arctic Islands of the North Atlantic! And no ships more suited than Ocean Atlantic and Albatros for such a voyage.
Enjoy the immense beauty of Svalbard when we cruise among whales, walruses, polar bears, and millions of sea birds, or discover one of the world's most beautiful, wild, and pristine natural areas in Greenland.
The epic journey combining the four islands of Svalbard, Jan Mayen, Greenland, and Iceland showcases the uniqueness and splendor of the Arctic nature.
Next departure:

Sep. 4, 2023

Join us on an expedition cruise from Kangerlussuaq to Reykjavík, which follows the same maritime course set by Norse settlers over a thousand years ago. In the Disko Bay, we will experience local...

Next departure:

Aug. 23, 2024

Among the Inuit and the great explorers to the northernmost inhabited polar regions in the Kennedy channel between Canada and Greenland.

Arctic - Canada - Greenland

Next departure:

May. 28, 2024

There are few wilder, more magnificent and untouched places than the islands of the North Atlantic! And no ships more suited than Ocean Albatros for such a voyage. On this adventure, we cover...

Arctic - Iceland - Scotland - Europe