by Journalist Valeria Schapira
"I used to say that Antarctica is a journey of a lifetime. But I am sure I will be back. A love like this cannot end."
My life will never be the same. Not after Antarctica. Crying, laughing, life and death at the same time. Mixed feelings. Joy and bewilderment. The immensity and my smallness.  Antártida, in Spanish - or Antarctica in English – a name that even sounds more melodic, is an emotional cocktail that dismisses any description. Even those of a writer.
At times, I felt overwhelmed. Humble, small, aware of my insignificance, face to face with such present the Universe was giving me. I cried of emotion every single day, confronted with the majestic scenery displayed in front of my eyes at each and every expedition.

While my adventure companions climbed mountains and walked trails, I just sat in silence, filming, writing down my notes. Still. For minutes. For hours. Contemplating the horizon, the seals, the penguins. Specially the penguins: they are loveable, clumsy and vulnerable. They stumble and fall. And they are up again, facing life and strong winds. Maybe I just felt identified with them.
One of the guides commented on my particular way of enjoying. Still, like a penguin changing its feathers. I was simply happy in the white continent. With a pristine joy. Uncontaminated. Just me in contact with Nature. The sporadic Internet signal helped the inner connection. It was just me, my feelings, my naked soul. I felt that, even if I died in Antarctica, I had already become part of the wholeness.
Even though I am used to travelling the world, I must confess that few things surprise me at this stage of life. I hope I could feel touched more often but it simply does not happen. Antactica casted a spell on me. I fell in love in Antarctica. And with Antarctica. Reason was left aside. My mind froze as a glaciar. It was just pure emotion acting through my body and my soul.
Antarctica is special as love. It cannot be explained. It just happens.  Even animals are magical in this continent. They look at us, human beings, with curiosity. I could even feel a look of contempt in a seal´s eyes. The sad zoo of the city works the other way round here: we are the strange creatures to be observed and analyzed. The beings resting in rocks and icebergs contemplate the two legged animals trying to understand why we need so many things to be happy. Life should be more simple, like Antarctica.
I must confess I did not read a lot before the voyage. I could argue lack of time but it is my usual procedure when something awakens my emotions. It is like going out with someone I am really interested in. If I have too much information before the date, I will probably feel disappointed.
If I could resume Antarctica in a single world I would say Gratitude.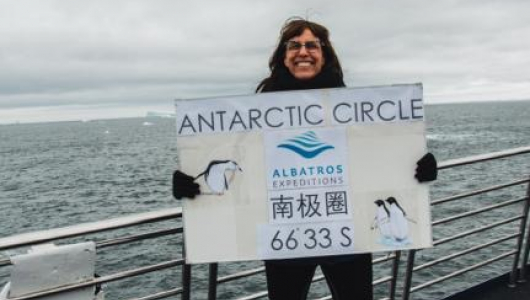 Gratitude for this gift that the Universe offers with generosity, unveiling the mistery of previous civilizations. Leaving me with so many questions about energetic poles and buried castles.
Gratitude for the privilege of being there. Not many people can go to Antarctica. Very few people in the world ever cross the Polar Circle.
Gratitude for what Antarctica triggered in my soul. Maybe the process was ongoing but the ice gave it the final barnish. I felt complete. My best version appeared. Even in my clumsiness – slipping from the Zodiacs again and again, in spite og the sailor´s grip -  I felt my innocence restored. My relationship with my inner child, a child that could marvel her innocent eyes at a unique spectacle was renewed.
Gratitude for the love I did not know I could feel again. I fell in love like a teenager. I felt alive. Again.
Gratitude for every single moment. For the group of journalists - now my friends -, for the helpful and caring crew, always in the details. For each towel sculpture that Marco, at housekeeping left in my room: penguins, whales, butterflies. His love for his job was touching and made me feel home in the middle of the ocean.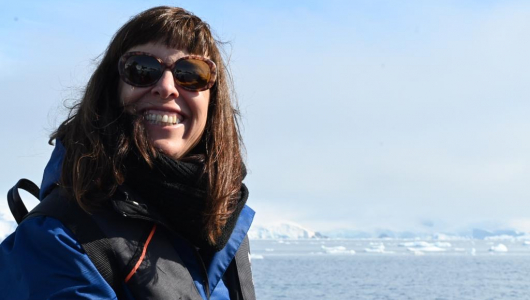 We even made good friendship with the Drake Channel. As a relationship that starts rough and ends lovingly, that´s how Drake and linked up. In love.
Antarctica has changed my life and I can only say thank you. I used to say that Antarctica is a journey of a lifetime. But I am sure I will be back. A love like this cannot end.
By Valeria Schapira, 2020. 
Follow her adventures on Instagram: @viajosolaofficial @valeriaschapira