The "Wild side" of Greenland - Milne land and Scoresbysund
Next Departure

Sep. 23, 2023

See all departures

Duration

10 days

See the itinerary

Activities

,

Kayaking

,

Photography

,

Wildlife observations

,

Zodiac
As Aurora Borealis flickers over the night sky, we enter Scoresby Sound, the largest fjord system on Earth. First mapped in 1822 by William Scoresby, the fjord covers an area the size of Denmark and extending 350 kilometres inland.
Our first call is the isolated Inuit community, Ittoqqortoormiit. The 350 inhabitants live in this the most isolated town in Greenland. From here we navigate into the maze-like interiors of Scoresby Sound to make landing in Nordwest Fjord! Tall rocky spires surround us, but also flat spots suitable for Zodiac landings and nature hikes. Inuit has roamed these coasts for centuries, hunting for muskoxen, and their remnants of their dwellings can be seen by the trained eye.
Back into the main fjord, the captain steers Ocean Albatros around the island of Milne Land. Several fantastic landing spots give us plenty of possibilities for hikes and kayaking. Weather in these sheltered interiors of Scoresby Sound is stable, usually with clear autumn air and snow-dusted mountain tops. Muskoxen are feeding on the few vegetated slopes, and in the fjord, belugas and narwhales can often be observed. We aim to make our last landing on beautiful Danmark Ø before heading back into open water and the dramatic Blosseville Coast, hopefully to make landings near the great fjord of Kangerlussuaq.
With Ocean Albatros' inverted so-called X-Bow and modern stabilizers, the Denmark Strait will feel less rough than on other expedition vessels. There should be good possibilities to be out on deck to spot sea mammals on the day towards Reykjavík and our farewell to vessel and crew.













Day 1
ICELAND, REYKJAVÍK. EMBARKATION
In the afternoon, we board the Ocean Albatros in Reykjavík and set our course northbound for Greenland.
After boarding and welcome drinks, the Expedition Leader will inform you about the voyage, the ship's daily routines and the various security and safety procedures, then you will have time to unpack and get comfortable in your cabin. Before sailing, there will be a mandatory safety drill.  
The Captain takes the ship out of Reykjavík in the early evening, as we enjoy our first hours onboard.
Day 2
AT SEA. CROSSING THE DENMARK STRAIT TOWARDS GREENLAND
Our lecturers onboard will make inspiring and enriching presentations about both Iceland and Greenland's past history and about nature, wildlife and climatology.
Day 3
INUIT TOWN OF ITTOQQORTOORMIIT
We cross the huge entrance of Scoresbysund during the night and arrive at the Inuit community Ittoqqortoormiit (Scoresbysund) in the morning. About 350 people live here, most of whom base a large portion of their households on hunting. Seal, muskoxen and polar bear skins hang to dry outside many of the houses, and the sled dogs are waiting for sea ice to be safe for the first hunts of the fall. The town is extremely isolated, and the inhabitants only receive ship supplies twice a year. We have established good contacts with the local residents during our earlier visits and can go ashore to experience this unique little community.
Day 4-6
Into the SCORESBY SUND FJORD; LARGEST IN THE WORLD
The amazing visual menu of the following days is nothing less than the longest fjord in the world, Scoresby Sund. We will explore this fjord and hope to be able to offer kayaking and some exciting landings.
The program for the next few days in the "Wild side of Greenland" as we delve into the fjord system depends on the weather and ice conditions. The route and the landings are determined by the Captain and the Expedition Leader jointly and are typically announced the night before. Some of the interesting landings we strive to visit are: 
Our voyage into one of these last unspoiled wild areas of the world, will begin with a visit at Eskimo Bay (Eskimobugt). We have spent the night moving into the vast fjord system and drink our morning coffee arriving into the bay at the inner Nordvestfjord. We use our Zodiacs to make a landing with the snowcovered mountains as our backdrop and from a distance we hope to see the remains of the Thule site that lies here (The ruins have been known since 1930ies but are very rarely visited). Our expedition staff will be on hand to tell us more about this cultural site. 
Another fantastic option is the Daugaard-Jensen Glacier, that lies well within the deeper fjord system (Nordvestfjord). Explorer Lauge Koch mapped these areas back in 1931-34, during his three year expedition. Much of the ice that ends up in northern Iceland, starts its seafaring days right here in this super productive glacier. It is only in the most recent years that ships have been able to get close to the glacier.
Denmark Island (Danmarksø) is a hunting site that dates almost 4000 years back, and was used by the Paleo and Neo Eskimo cultures alld the way up to the Thule culture. Somewhat more flat terrain offer us more distance in the way of a walk. Our experienced expedition staff keeps a perimeter up, as we are still deep in Polar bear country. What seems to be barren tundra terrain, hides colourful moss as well as bright flowers, the same can be said of much of the Arctic flora we experience along our voyage. Even in these cold harsh areas we can experience life, if we are lucky also muskoxen or other mammal inhabitants.
As we set our sights toward Milne Land and Red Island (Røde ø), we can expect to see giant majestic icebergs and the odd whale or two. Once on the red island, the ruby sandstone and basalt foundation give us a nice contrast to the crystal clear icy water, maybe more reminiscent of a desertlike terrain. 
Bear Islands with its jagged mountainous frame, could be our last landing in the fjord. It would be a fitting one at that, as the glaciers, floating ice and mountains give us remarkable views. Wherever we go in these seldomly visited areas, we are sure to get breathtaking vistas and memorable landings.
Navigating the sheltered interior of the fjord system, we are likely to enjoy stable September weather with clear skies and distant visibility. 
Please note that, as always all the outings and landings rely on weather, sea and ice conditions being favorable both for the ship to access the areas, as for the zodiacs and kayaks to maneuver under adequate conditions, ensuring the safety of all our passengers and staff.
For this reason, during moments of harsh weather and throughout the entire trip, Ocean Albatros has excellent public areas, such as wellness/sauna, restaurant, bar and a library for our passengers to spend their spare time.  Our ship is staffed by experts in the field who will also share great lectures along the way, ranging from exploration history to biology, geology, ice and wildlife.
Day 7-8
CRUISING ALONG THE BLOSSEVILLE COAST
Possibly the most dramatic coast outside of Antarctica, the Blosseville is guarded by Greenland's highest mountains and steepest fjords – and a belt of pack ice which before global warming would keep out any explorer for years. The recent decade has had warmer summers and much less ice which enables ice strengthened vessels such as the Ocean Albatros to venture along the coast, on lookout for polar wildlife, abandoned Inuit settlements and otherworldly landscapes.
Day 9
AT SEA. LECTURES AND BIRD WATCHING
The last day will be at sea getting glimpses of sea birds migrating south.
Our lecturers onboard will make inspiring and enriching presentations about both Iceland's and Greenland's history, nature, wildlife and climatology. A captain's farewell drink and a slideshow of our voyage will also be presented this evening.
Day 10
REYKJAVÍK, ICELAND. DEPARTURE
Early in the morning we slowly approach the Icelandic capital, Reykjavík, and your Arctic adventure will have concluded. We enter Reykjavík in the morning and bid farewell to the vessel and crew.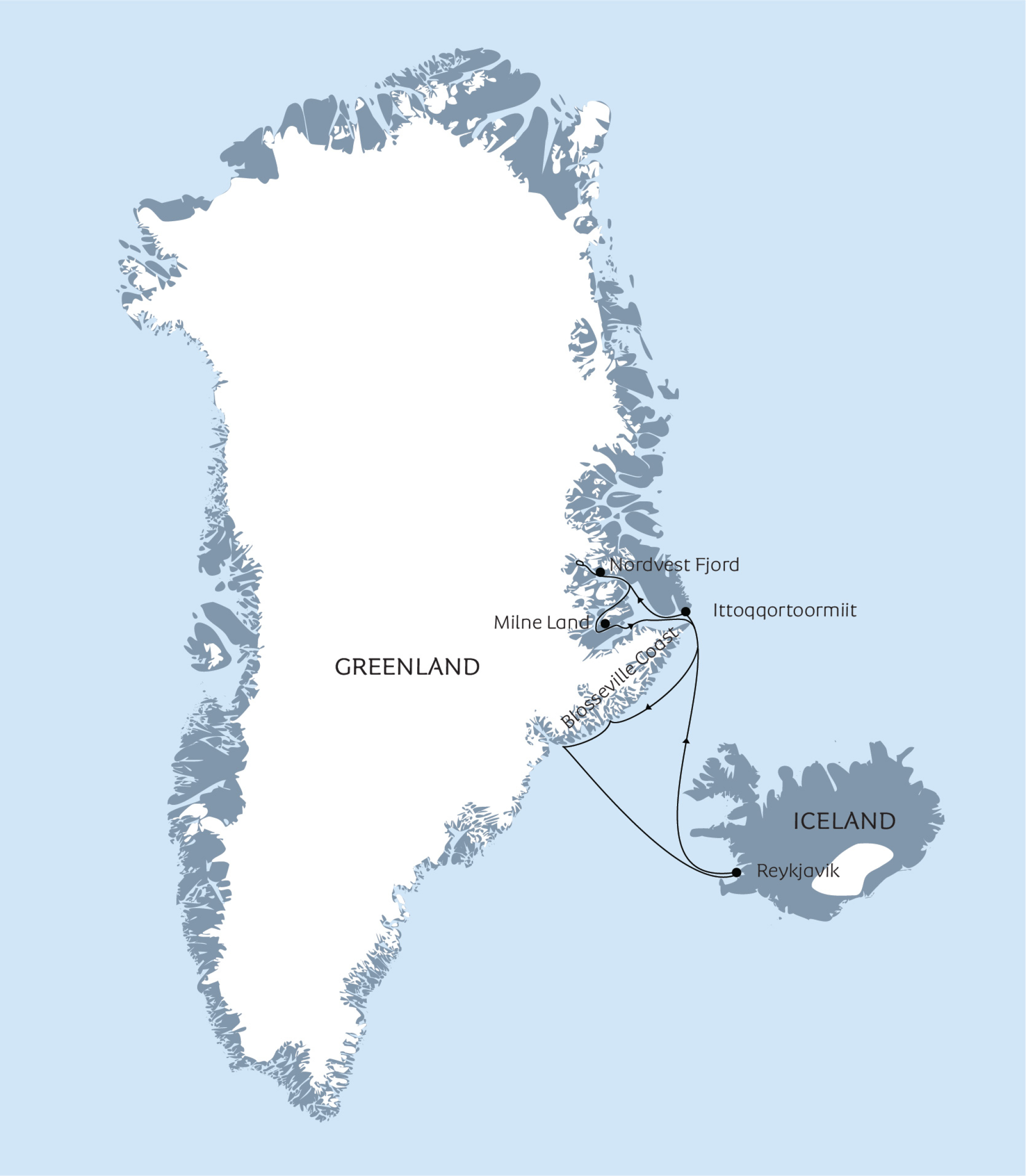 Inclusions
10-day/9-night's cruise with Ocean Albatros in a shared outside double stateroom with private bathroom/toilet
English-speaking expedition staff
"Open Town" and guided walk in Ittoqqortoormiit
Nature hikes and Zodiac cruises as per itinerary, when conditions permit
Information briefings and lectures by expedition team
Special photo workshop
Full board on the ship
Free Coffee, tea and afternoon snacks on the ship
Taxes, tariffs, and AECO fees
Digital visual journal link after voyage, including voyage log, gallery, species list and more!
Exclusions
Extra excursions and activities not mentioned in the itinerary
Single room supplement and stateroom upgrades
Meals not on board the ship
Beverages (other than coffee and tea)
Tips for the crew (we recommend USD 14 per person per day)
Travel & cancellation insurances
Personal expenses
Anything not mentioned under 'Inclusions'