REMOTE ISLANDS OF THE ATLANTIC - a Bird Watchers Adventure
Next Departure

Mar. 16, 2024

See all departures

Duration

28 days

See the itinerary

Activities

,

Lectures

,

Photography

,

Zodiac
The Mid Atlantic islands of Tristan da Cunha, Saint Helena and Ascension are the most remote inhabited places on Planet Earth. This once-in-a-lifetime voyage on our very own vessel, Ocean Albatros, takes you to nine of the Mid Atlantic islands. Each of these islands is a paradise for birders and cetacean enthusiasts, promising a wealth of nature sights, from endemic species to breathtaking mountain and volcanic landscapes. Days at sea will be highlighted with amazing sea bird life, migrating whales as well as unique lectures by our expert staff – and of course delicious dining! 
Our odyssey sets off from the Falklands, from where we go towards the enigmatic South Georgia Islands. Here we visit wildlife colonies and of course expect to find ample amounts of king penguins. Marking all kinds of endemic species and rare birds on our personal lists, we navigate towards some of the worlds most isolated islands, in the middle of the South Atlantic. The lava cliffs of Gough being our first glimpse of land that by our Zodiacs become a close encounter to a strictly preserved nature reserve. The following days we visit Inaccessible Island and Tristan da Cunha, places that only a very few people get to experience. Our voyage continues to exotic Saint Helena, where Napoleon Bonaparte was famously imprisoned. The end of our sojourn entails visits to Ascension island and we disembark at Cape Verde! By this time we have probably spotted more than 150 individual bird species.
The voyage takes place during March and April. The prevailing winds will be westerly during the first part of the cruise, until we reach Saint Helena and the southeast trade winds. In other words: tailwinds all along! In addition, we have the honour of having the world-renowned expert on seabird identification, Dr. Robert Flood, as guest lecturer.
Our brand-new expedition vessel Ocean Albatros offers all the comfort needed for this long voyage. It is specifically designed to provide a better expedition experience than any other ship. The patented X-bow and zero speed stabilizers provide a calmer ride and reduces discomfort for passengers with a tendency to seasickness.

















Day 1
PORT STANLEY ON FALKLAND ISLANDS. EMBARK OCEAN ALBATROS AND DEPARTURE TOWARDS SOUTH GEORGIA
Port Stanley, the capital of the Falkland Islands, is a quaint and very British outpost in the south Atlantic. The town is walkable, with colorful houses and cozy pubs lining the streets. You will possibly encounter the endemic flightless steamer duck in the harbour, as well as the delicate dolphin gull. Fur seals are often trying to occupy our landing pier.
Albatros Expeditions' new expedition vessel Ocean Albatros is anchored in the harbour, and you will embark the ship by Zodiac tender boats by mid-afternoon. After being shown to your stateroom you will be given the mandatory safety briefing, while the captain gets ready to steer out into the South Atlantic Ocean.   
Day 2-3
AT SEA APPROACHING SOUTH GEORGIA. LECTURES BY OUR QUALIFIED EXPEDITION TEAM
Heading due east, we will be followed by numerous black-browed albatrosses as well as other seabirds. We will probably also come across both Peale's dolphin and Commerson's dolphin. We will pass Shag Rock on our way to South Georgia where huge swarms of seabirds feed in between large flocks of fur seals.
Day 4-6
SOUTH GEORGIA, WILDLIFE PARADISE OF THE SOUTH ATLANTIC
South Georgia has a dramatic setting with glacier-clad rugged mountains. Lying in the Southern Ocean south of the Antarctic convergence, the cold sea is booming with life. The island, often referred to as "The Galapagos of the Poles", can only be reached by ship. There is no permanent human settlement, but seabirds and seals breed in the millions. The difficulty of getting there and the restrictions to protect the environment, makes South Georgia one of the least-visited tourist destinations in the world. Today the island has been largely left to recover from human over-exploration, resulting in dramatic increases in the number of whales, seals as well as penguin and seabird populations. The itinerary and activities over the next couple of days are largely dependent on the weather and the sea.
We will have a chance to visit Salisbury Plain, home to one of the largest king penguin colonies on the island, estimated between 250,000 and 5,000,000. At this time of the year the beaches will also be crowded with plenty of young and very curious fur seals as well as southern elephant seals.
Another possible landing site, we hope to visit, is Prion Island, a reserve for the wandering albatrosses. The site is closed until the end of January to protect the breeding birds. This is one of the few sites to observe these gentle creatures with the largest wingspan of any bird in the world. Gentoo penguins, giant petrels and Antarctic prions also breed on the island.
The British administration at Grytviken, a former Norwegian whaling station, is also worth a visit. The famed British explorer Ernest Shackleton died in Grytviken on his second visit, and is buried south of the station. The endemic South Georgia pipits and South Georgia pintails may be seen around the buildings.
Day 7-10
AT SEA TOWARDS TRISTAN DA CUNHA ARCHIPELAGO
Setting a north-westerly course we soon reach warmer waters as well as westerly winds, giving us a proper push towards the archipelago of Tristan da Cunha. The sea can be rough, but the unique backward sloping bow of Ocean Albatros and her efficient stabilizers reduces vibration and slamming against the waves. En route to the next remote islands, you will have plenty of time to edit your photos of the wildlife and stunning landscapes. Our onboard photographer will offer you help, tips and tricks to improve your picture telling skills. Or you can attend qualified lectures on geology, meteorology, birdlife, marine mammals as well as the history on exploration of the Southern Ocean. From upper decks you can study the albatrosses, petrels and shearwaters taking advantage of the dynamic soaring from lee to windward of the ship.
Day 11
GOUGH ISLAND. ZODIAC CRUISES
On our early morning approach towards the rough and remote volcanic island of Gough, we hope to see one of the world's greatest seabird spectacles: Thousands upon thousands of birds radiate out from Gough at first light heading for open sea. Several species of albatrosses, petrels, shearwaters and prions can be observed during those magnificent hours.
Gough Island is a strictly protected nature reserve, and we are not permitted to land. The island's entire coastline consists of steep lava cliffs often several hundred meters high, which we will carefully approach from the leeward side, aiming to make Zodiac cruises as close to the shore as the sea allows. Gough Island is famous for its rich birdlife, including the Tristan albatross, Atlantic yellow-nosed and sooty albatrosses, and the Atlantic petrel. Possibly we can even spot the endemic Gough moorhen and Gough finch - the latter unfortunately at the verge of extinction.
By mid afternoon we are back at Ocean Albatros ready to head for the northern islands in this remote archipelago: Nightingale, Inaccessible and Tristan da Cunha. 
Day 12-13
NIGHTINGALE AND INACCESSIBLE ISLANDS. TRISTAN DA CUNHA. ZODIAC LANDINGS
We have two full days to explore the unique and isolated northern islands of the Tristan Archipelago to find the best places to go ashore. Our first call is likely to be at the tiny volcanic island of Nightingale, home to millions of seabirds. With its steep-sided shores landing will always be a challenge, but our skilled Zodiac drivers will aim for the sandy beaches on the leeward east coast. 
We continue to Inaccessible Island, some 20 nautical miles northwest of Nightingale. Approaching the island from the northeast should allow us to land on the shore of Salt Beach. Roaming is restricted, but we will all be straining our eyes to spot the tiny Inaccessible rail, world's smallest flightless bird, endemic to the island. There should also be a good chance of observing subantarctic fur seals on the beaches.
Having returned to our ship, Ocean Albatros will cruise slowly towards Tristan da Cunha to anchor for the night off Edinburgh of the Seven Seas, the main settlement of the island as well as the most isolated inhabited place on Earth. Tristan da Cunha was first spotted in early 1500 by Portuguese seafarer Tristão da Cunha, but it took another three centuries before a permanent settlement were established.
We are at the mercy of wind and swell, but with a little luck we should be able to make a morning landing at "The Settlement", home to less than 250 hardy islanders. The active volcano Queen Mary's Peak looms more than 2000 meter above sea level, making it an important landmark for former sailors. It had a major eruption from 1961 to 1962, forcing all inhabitants to flee to Gough Island for shelter. Besides visiting the small town, we hope to spot some of the endemic birds breeding in the archipelago, for example the northern rockhopper penguin. This penguin has long golden tassels off the crest and is the only penguin on the island group. One of the most exciting tubenoses in the South Atlantic, the sooty albatross is breeding in good numbers on Tristan, as well as several species of smaller petrels such as soft-plumages petrel. Also of interest is the endemic Tristan thrush and the flightless Gough moorhen, which has been introduced to Tristan.
At late afternoon it is time to depart Tristan for the long leg north toward Saint Helena.
Day 14-17
AT SEA TOWARDS SAINT HELENA
Humpback whales are now quite common, and back in the open ocean we can hopefully also enjoy the view of large numbers of seabirds. Dolphins indigenous to this region often follow our ship, and we should be on the lookout for spinner, Clymene and Fraser's dolphins.
We expect to pass the Tropic of Capricorn in the afternoon of day 15. It is the southernmost latitude where the Sun can be seen directly overhead, but in April this has no implication for us, as the Sun is to the north, straight above the Equator. More importantly, this means we are out of the westerlies and into the southeasterly trade winds, hopefully pushing our stern for most of the remaining journey. With Saint Helena as our next call!
Day 18-19
SAINT HELENA. ZODIAC LANDINGS IN JAMESTOWN
With a wind perpetually blowing from the southeast, Saint Helena's only port is of course located on the northwest coast. While Ocean Albatros anchors off the tiny port, we will utilize the ship's Zodiac fleet to land at the beaches below Jamestown, the main town of the island.
Saint Helena is a tropical island situated about 2,000 km from the nearest African coast. The island is together with Tristan da Cunha and Ascension Island a member of British Overseas Territory with Jamestown as the islands' cultural capital.
We will take a walk up through the quant and tiny town, located in the steep-sided James Valley. Most buildings are kept in the classic architectural style dating back to 18th century, when the island was administered by British East India Company. Saint Helena is famous for being the final and very remote prison for the exiled Napoleon Bonaparte. He stayed in Longwood House outside of Jamestown from 1815 until his death in 1821. We will visit his residence and conduct several other walks in the countryside. Those who feel energetic might want to climb Jacob's ladder, a century old staircase rising almost 200 meters up the side of James Valley above the town.
The natural habitats on the island have been severely changed by the introduction of cattle, sheep, rats as well as a large number of plants. Nevertheless, the island has still around 400 endemic plant species found nowhere else in the world. It may be possible to locate the Sankt Helena plover, the only endemic bird on the island, they happen to be dwindling in numbers.
On our second day at Helena, we aim for an excursion to the central part of the island and, if swell allows, take a Zodiac cruise along the coast.
Day 20-21
AT SEA TOWARDS ASCENSION ISLAND
On our route further north into tropical seas, we will pass over the volcanic spreading zone of the Mid-Atlantic Ridge, some three kilometers below us. We can possibly spot more species of frigatebirds, noddies and boobies as we get closer to our next destination.
Day 22-23
ASCENSION ISLAND. BEACH LANDING BY ZODIAC CLOSE TO GEORGETOWN.
The barren volcanic island of Ascension is the northernmost of the three islands in the British Overseas Territory. The whitewashed naval barracks, fortifications and only vaguely hidden cannons, indicates that the capital settlement of Georgetown has been a British stronghold for centuries. The town is located – as we are now used to – on the leeward northwest coast. Ocean Albatros casts anchor in Clarence Bay and we make a Zodiac landing on the white beaches close to Georgetown.
With no commercial flights or steamers into Ascension, we are likely to be the only visitors. A stroll through town, a hike into the volcanic landscapes along the coast and possibly a Zodiac cruise, will gives us glimpses of this out worldly island. Despite the introductions of sheep, goats, cows and cats amongst others, the island is still an important habitat to a number of seabirds such as red-billed tropicbird, Ascension frigatebird (an endemic breeder), and black noddy. The tropical sooty tern breeds here in vast numbers, estimated sometimes upwards of 1 million birds. After cats were eradicated from the islands in 2009, Ascension frigatebird has returned to breed on the main island.
Having two days at Ascension, allow us an evening excursion to one of the beaches famous for nesting green sea turtles, which come here in thousands each year.
Day 24-27
AT SEA TOWARDS CAPE VERDE – AND CROSSING EQUATOR
By all likelihood we will cross the Equator at noon on day 25, Tuesday, April 11. We are in the area called the doldrums where the northern and southern trade winds converge and where light winds prevail.
Approaching Cap Verde, we will spend some time on deck to maximize our chances of spotting seabirds that are difficult to find anywhere else: such as Fea's petrel, Cape Verde shearwater, Boyd's shearwater and Bulwer's petrel as well as brown booby. There should also be good chances of seeing Atlantic dolphin, pantropical spotted dolphins, and short-finned pilot whales.
Day 28
CAPE VERDE ISLAND. AT QUAY IN PORTO PRAIA. DISEMBARKATION AND HOMEBOUND FLIGHT
Cape Verde, or the official name, República de Cabo Verde, is a group of ten volcanic islands with a Portuguese speaking population of half a million people. The islands were discovered by Portuguese navigators, and they played a central role in the era of the Atlantic slave-trade. Cape Verde received its independence from Portugal in 1975.
Like the other isolated Atlantic islands, we have visited on this journey, these islands are home to a number of endemic species of birds, plants and even reptiles. Within reach of Porto Praia, it should be possible to encounter breeding red-billed tropicbirds on the local Praia cliffs. The endemic Cape Verde Swift is also likely to be observed as well as the lago sparrow.
Ocean Albatros will be alongside in Porto Praia by mid-morning on Friday, April 14. After four weeks on board, it's time to say a heartfelt farewell to Ocean Albatros' faithful crew, and get ready for the homebound flight.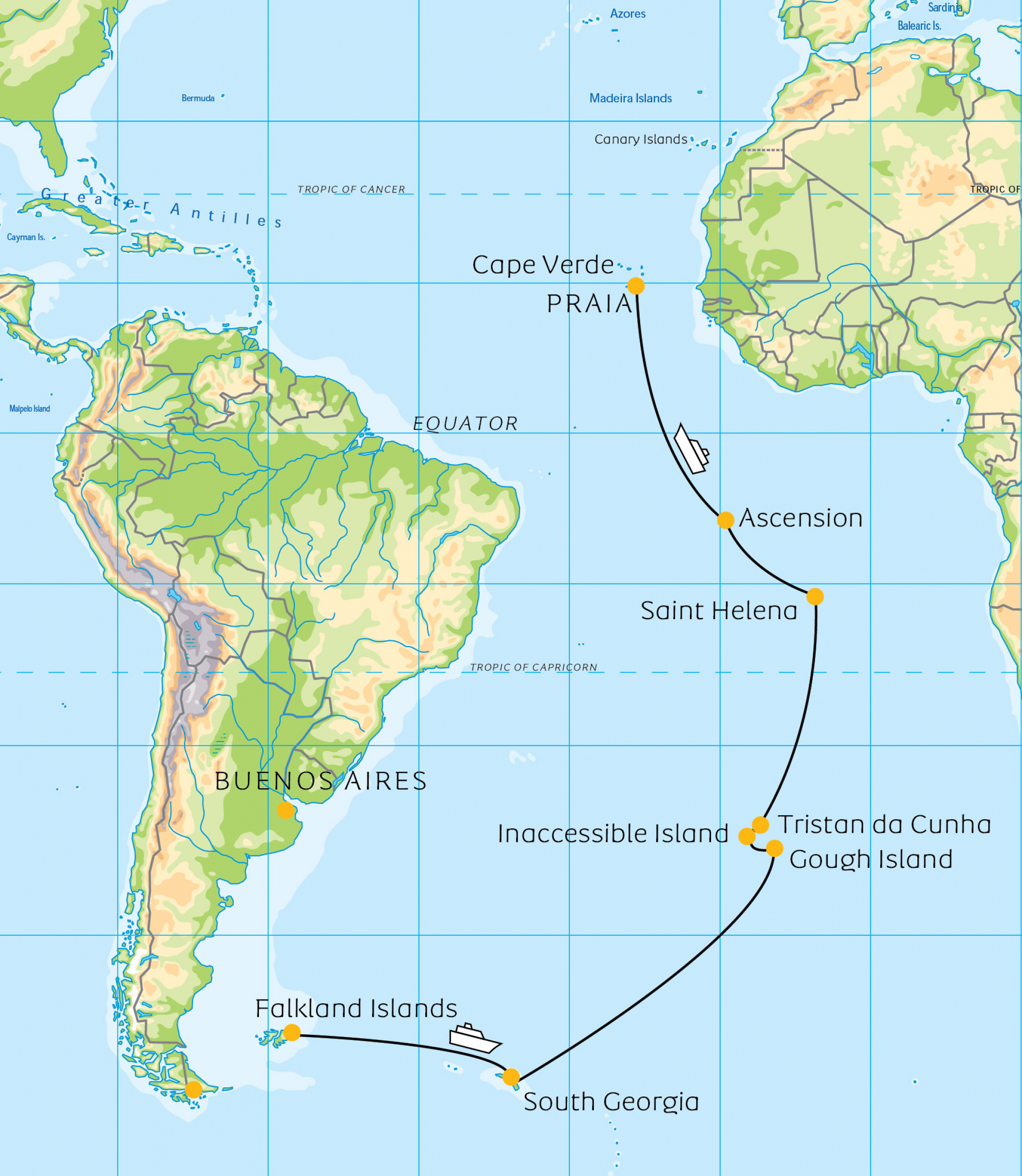 Inclusions
28-day/27-nights' cruise with Ocean Albatros in a shared outside/inside double cabin with private bathroom/toilet

English-speaking expedition staff

Town walks in Edinburgh of the Seven Seas, Jamestown and Georgetown (weather permitting) 

Zodiac cruises and nature hikes as per itinerary

Information briefings and lectures by expedition team

Special photo workshop

Full board on the ship

Free Coffee, tea and afternoon snacks on the ship

Taxes, tariffs, and landing fees

Digital visual journal link after voyage, including voyage log, gallery, species list and more!
Exclusions
Extra excursions and activities not mentioned in the itinerary

Single room supplement and cabin upgrades

Meals not on board the ship

Beverages (other than coffee and tea)

Tips for the crew (we recommend USD 14 per person per day)

Travel & cancellation insurances

Personal expenses

Anything not mentioned under 'Inclusions'
SUGGESTIONS FOR CONNECTING FLIGHTS
Falkland Islands
The Chilean LATAM Airlines operates weekly flights from Punta Arenas in southern Chile to the main airport on Falkland Islands at Mount Pleasant. The flights depart on Saturdays just before noon, are direct and takes a little less than two hours. The airport is located 55 km from Port Stanley, where Ocean Albatros is anchored. Transport Stanley is done by taxi or minibuses.
Cape Verde
Several airlines operate out of Praia Airport on Cape Verde. For example, Portuguese TAP Air with direct daily flights to Lisbon. Departure is 3 AM in the morning, and the flight takes c. 4 hours.
HIGHLIGHTS
Visit nine remote islands of the South Atlantic

A bird watchers dream voyage

Visit Napoleon's prison on Saint Helena

Ocean Albatros' inverted bow gives excellent stability in heavy sea

Ocean Albatros exceeds the highest environmental standards and has less than half the carbon emission per passenger of traditional expedition vessels
Adventure options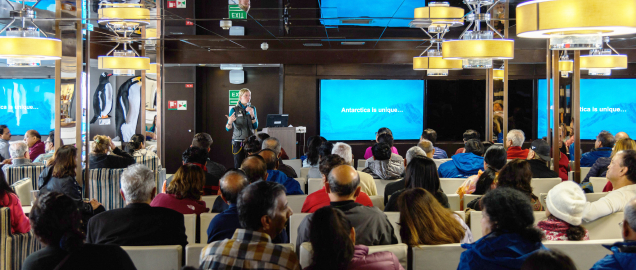 Our primary focus is knowledge, and we apply this to every aspect of a journey. From the staff that forms our expedition team, to the routes our ship follows, and of course, the program onboard.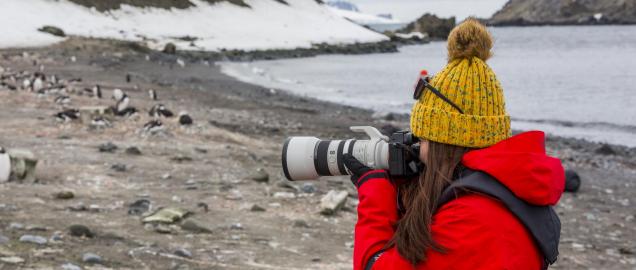 We always have a dedicated expedition photographer onboard to document the voyage and share their passion for photography through lectures and during landings and zodiac cruises.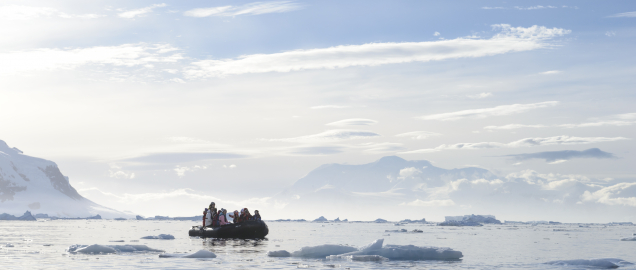 Essential for expedition cruises, Zodiacs are robust boats that can go up on a beach, a rocky outcrop, a river bank or even an ice floe push through bergy bits of ice floating in the water. This is definitely one...