Encounter the 7th continent in comfort! Substituting the 2-day Drake passing, with a 2 hour flight, we can experience the incredible wildlife, stunning mountain scenery and gigantic icebergs in record time and comfort.
Departing from Punta Arenas in Chile, we fly across the mighty Drake Passage and land at King George Island. From here we embark our wonderful ship and navigate around the South Shetland Islands and the Antarctic peninsula. Throughout the following days we will be making Zodiac landings at penguin rookeries and fascinating lookouts. Continuing southward, deep into the inlets of Antarctica, we pass the famous Gerlache Strait, where 3000-ft ice cliffs rise straight out of the still water. Experiencing so much of the remote continent in comfort, and in so few days, is only possible in "Fly the Drake".
Any voyage to Antarctica is an adventure, but this cruise offers a unique experience for the few. Shore landings, excursions, lectures and Zodiac safaris are easily accommodated to help you enjoy an unrivalled expedition experience. Onboard our brand new strong, ice-classed expedition vessel, Ocean Albatros, we are sure to get close to the dramatic coastlines. Zodiac cruising and shore landings are an important and considerable part of the planned itinerary, hopefully enabling all expedition guests to set foot on the Antarctic continent, as well as the many surrounding islands.






















Day 1
ARRIVAL PUNTA ARENAS AND GETTING READY FOR OUR EXPEDITION CRUISE
Arrive and check in at our hotel in Punta Arenas, Chile – the capital of southern Patagonia. The historic city with rolling hills surrounding it and the Strait of Magellan in front. Its past is rich in exciting events, from being a penal colony to becoming a sheep and gold rush colony with many European settlers. The present-day city remains home to a major port; and with the Andes mountains and a multitude of national parks close by, it's a favored staging point for many wonderful adventures. Even our own adventure is beginning!
Our 4-star hotel is centrally located, which allows you to make full use of your time outside of the scheduled events.
If you plan to arrive early, you can even take your time to explore the historical city.
Our "journey" begins at 15:00 with all the necessary safety briefings, the latest weather forecasts and embarkation information needed to enjoy our upcoming expedition cruise and trans-Drake flight. All mandatory activities are held at the hotel and you will receive information about all these as you arrive to the hotel. We finish our daily schedule with a welcome dinner, where you can enjoy a typical Chilean meal.
Day 2
FLYING THE DRAKE. FLIGHT, KING GEORGE ISLAND, EMBARKATION AND POSSIBLE FIRST ZODIAC LANDING
We are packed-up, excited and ready-to-go from the very early morning, as we await information on the landing conditions on King George Island. Normally the flights take off early, but we are ready to wait in case the flights are postponed.
We keep ourselves close to the hotel and the Punta Arenas land team, and drive to the airport as soon as our chartered airline gives us the green light. The expectation of exploring the 7th Continent builds, as we have donned our parkas, warm clothes and boots.
Once the fasten your seatbelts sign lights up, it's time to fly across the famed Drake Passage - a body of water that marks the intersection of the cold Antarctic with the warmer Atlantic and Pacific Oceans. We substitute 2 days of sailing with 2 hours of flying.
Our landing is smooth as the planes are built for these types of landings and runways. Our luggage is transported to the ship and we enjoy a 2 kilometer walk along the Chilean Eduardo Frei base and the neighboring Bellingshausen Russian research station. King George Island is the largest of the South Shetland Islands and home to no less than 10 research stations, 2 churches and of course the Antarctic peninsula's only airstrip in use for commercially chartered flights. The expedition team is awaiting us with Zodiacs on the Fildes Bay beach and will ferry us to our ship.
Once onboard, the exciting Antarctic wildlife comes into view with our first sight of seals, penguins and albatrosses. In other words, it's time to explore the Antarctic islands of the South Shetland chain and be marveled by the captivating landscapes we will encounter along the way.
Days 3-6
EXPLORING THE SOUTH SHETLAND ISLANDS AND THE ANTARCTIC PENINSULA
Over the next days, we will begin the exciting Antarctic experience our ancestors only dreamed of. During these days we will explore the Antarctic islands of the South Shetland chain and be marveled by the captivating landscapes we will encounter along the way.
Weather permitting, our projected landfalls could include: Deception Island, an extinct volcano with waters warm enough for a polar swim. Half Moon Island with nesting Wilson's storm petrels and chinstrap penguins. But there are many other fascinating landing options.
As the white shimmer of Antarctica looms on our horizon, the presence of wildlife multiples with many species of lively penguins, inquisitive seals, nesting birds and the spray of marine mammals. Wildlife abounds along our planned route along the Antarctic Peninsula: leopard, fur and Weddell seals of Cuverville Island; humpback whales of Gerlache Strait and Paradise Bay; the dramatic Lemaire Channel's orcas and much more.
The itinerary and activities over the next few days depend on weather and ice conditions. The route and shore landings will be determined by the captain and expedition leader and communicated to guests through regularly scheduled briefings.
Please note that all the outings and landings rely on weather, sea and ice conditions being favorable both for the ship to access the areas, as for the Zodiacs and kayaks to maneuver under adequate conditions, ensuring the safety of all our guests and staff. 
For this reason, during moments of harsh weather and throughout the entire trip, our ships offer excellent public areas such as wellness/sauna, restaurant, bar and a library for our guests to spend their spare time. Our ships are staffed by experts in the field who will also share great lectures along the way, ranging from exploration history to biology, geology, ice and wildlife. 
Day 7
DEPART ANTARCTICA – BACK TO PUNTA ARENAS
Today it's time to disembark and revisit King George Island. We follow the same procedures as when we were doing the reverse route. Having walked to the airport, we calmly await the sight of airplanes landing on the legendary airstrip.
We depart from Antarctica and spend the 2-hour flight time realizing what a truly spectacular adventure we have just completed.
Once we land in Chile, we are transferred to our hotel and enjoy an overnight stay.
Day 8
PUNTA ARENAS
This morning concludes our fly-cruise expedition, and you can continue your adventures or begin your return home.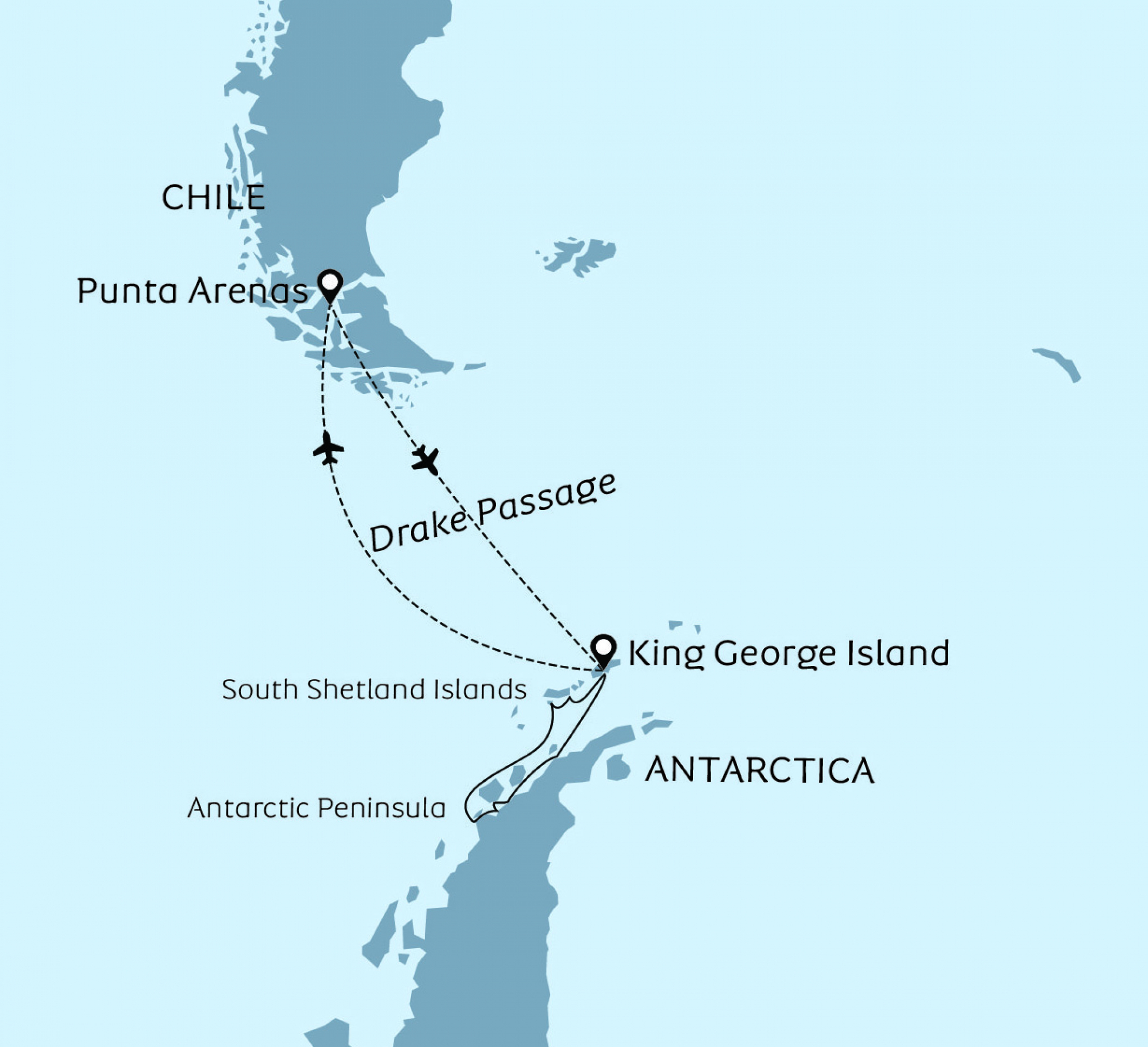 Inclusions
Return flight to King George Island from Punta Arenas, in standard seats
6-day cruise with accommodation in a shared outside double stateroom with private facilities
2 overnights in centrally located hotel in Punta Arenas in a shared double room (pre and post cruise)
All Zodiac landings and excursions as per itinerary
Transfers to/from Punta Arenas airport in connection with the King George Island flights
Expedition parka
Rubber boots on a loan basis
Guiding, briefing and lectures by our expedition leader and team
Special photo workshop
English-speaking expedition team
Visual Journal link after voyage including voyage log, gallery, maps, species list and more!
Welcome dinner at hotel (day 1)
Full board on the ship - breakfast, lunch, dinner and afternoon tea
Breakfast at the hotel (during our stay in Punta Arenas day 2 and day 8)
Free tea and coffee 24 hours a day (during the cruise)
Welcome and farewell cocktails on board
Taxes
Exclusions
Extra excursions and activities not mentioned in the itinerary
Single room supplement and stateroom upgrades
Comfort seat upgrade on the flight (see prices separately)
Meals not on board the ship
Meals on day 7 (after returning to Punta Arenas)
Beverages (other than coffee and tea)
Tips for the crew (we recommend USD 14 per person per day)
Personal expenses
Transfer to/from the airport in relation to international flights
Anything not mentioned under 'Inclusions'
Flight times
To enjoy a fly-cruise like this, you have to be flexible around the flight schedule, since there can be narrow windows of time, where weather conditions allow us to go. This means that from the evening on day 1 and the following day we employ a 30-minute ready rule. Which practically means we expect all guests to be able to get to the lobby with all their luggage and gear within 30 minutes. Of course, our Punta Arenas team will keep us informed and might even be able to give us a more precise departure estimate.
Getting to Punta Arenas
We strongly advise you to book a flight that is scheduled to land in Punta Arenas no later than 13.00 on day 1, so you can be sure to join the planned activities that is set to begin 15.00. There are many morning flights to Punta Arenas international airport (PUQ) from the international airport of Santiago de Chile (SCL).
Please plan to have a buffer in your international flights, so that you are sure to make it. With flexible flight tickets, you can also manage any schedule changes. Since we are operating with flights to one of the world's most remote areas, it's important to have this flexibility.
Mandatory briefings
All guests on members of IAATO's expedition vessels needs to undergo safety and guideline briefings, as well as biosecurity procedures, before they join cruises that navigate the Antarctic waters and make landfalls. Albatros Expeditions' Punta Arenas land team perform these from 15.00 on day 1. It's mandatory to be a part of these briefings. Not participating in these means that you'll be unable to join the cruise. During these briefings, we'll also perform an expedition boot fitting as well as going through a lot of practicalities of life onboard. Briefings are held at our hotel, and information is available about the specifics before your cruise as well as at the hotel. We wrap up the events with a welcome dinner at the hotel.
It's safe to say that we'll do everything within the realm of possibility to help any guests who are delayed due to unforeseen events or other reasons that are clearly beyond the guests' control. We still vigorously recommend all guests to plan to avoid these, by planning a time buffer.
Absentees
Any participants that do not show up for the mandatory briefings are considered absentees and are not able to join the expedition and will receive no refunds. Albatros Expeditions take no responsibility for any events that end up in guests unable to join the cruise, which is why we strongly recommend that guests sign cancellation/interruption insurance at a third party (insurance company).
Returning from the Antarctic (return flights)
We have no events planned on day 6 (the day we are scheduled to fly from King George Island to Punta Arenas). This is due to the uncertainty of flight schedule. Any guests planning to book a flight ticket with a late departure on this day, we advise to book a type of ticket that can be rebooked in case of schedule changes. Our recommendation is that guests book a flexible return ticket in the late afternoon or later on day 7.
Hotel
We stay in the centrally located 4-star hotel Cabo de Hornos or something similar. The planned briefings and activities are held at the hotel.
What do we do if we are delayed/moved forward (Contingency Plan)
Our chartered airline company have been running these flights for many years, and the statistics tell us that more than 80% of the flight departures are run on the proposed schedule. 10% within 1 day, and finally 6% within 2 days. Our cruise itinerary will be able to be fulfilled with minor adjustments should there be changes in the flight schedule.
In the event of adverse weather conditions that are forecasted to last for multiple days, Albatros Expeditions have a contingency plan in place to deal with this in the best manner possible. It's hard to forecast uncertain occurrences, but below you'll find our plan if some of them happen.
For the guests in Punta Arenas this could mean flying already on day 1. This would mean that we would push for a flight departure already in the first evening, meaning you'll arrive earlier in Antarctica than planned, no other changes will be made. The guests already in the Antarctic would return one night earlier and proceed to have 2 nights in Punta Arenas (i.e. one more night than the planned itinerary).
If the flights are delayed a full day, the guests in Punta Arenas would receive an extra night in Punta Arenas, ready to fly when the forecast changes. It's possible that excursions will be arranged, if the weather is deemed sure to not change within 5-8 hours. If the weather conditions persist for more days and we unlikely reach day 4, still unable to land, the rest of the voyage will be cancelled and a cruise fare refund will be made. The guests that in this case would be in the Antarctica, would also wait for the weather to clear, and if the weather is forecasted to persist over a longer period, the captain could decide to return by sea to Punta Arenas, so the voyage can end. In this case all meals and accommodation onboard are included. Please refer to the terms and conditions applying to fly-cruises for a closer description of our contingency plan.
Adventure options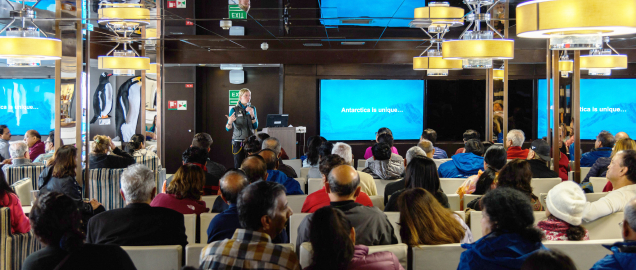 Our primary focus is knowledge, and we apply this to every aspect of a journey. From the staff that forms our expedition team, to the routes our ship follows, and of course, the program onboard.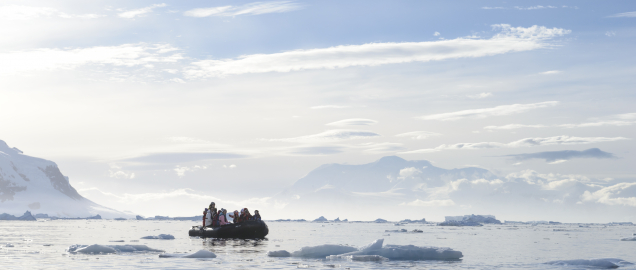 Essential for expedition cruises, Zodiacs are robust boats that can go up on a beach, a rocky outcrop, a river bank or even an ice floe push through bergy bits of ice floating in the water. This is definitely one...