Expedition Cruise from Chile to Costa Rica
Next Departure

Apr. 13, 2021

See all departures

Duration

17 days

See the itinerary

Activities

,

Photography

,

Tastings

,

Trekking

,

Zodiac
This is a unique expedition voyage along the Andean coast from Chile to Costa Rica onboard Albatros Expeditions' new-built luxury vessel, Ocean Victory.
Visiting coastal towns and nature reserves you will get an impeccable insight into the rich archaeological, modern as well as natural history of Chile, Peru and Ecuador. Added to this is the dense tropical jungle, white sandy beaches and stunning wildlife on the coastal islands of Panama and Costa Rica. An expedition cruise of a lifetime!
Setting out from colorful Valparaíso, we sail north to the lovely towns of Coquimbo, Iquique and Arica in northern Chile. While in Callao, Peru, it is possible to visit its capital, Lima.
We will visit popular Manta while in Ecuador, and our ship will anchor off Isla de la Plata, a national park known as a mini-Galapagos. We cross the Gulf of Panama to reach the beach and jungle islands of Granito de Oro & Coiba in Panama as well as Golfito Bay in Costa Rica, where the term Paradise is an understatement. 
Disembarking in the Costa Rican port of Puntarenas, we get the last impression of this beautiful country on our way to San José, the airport and homebound flight. 



Day 1
Arrival and embarkation in Valparaíso
Day 2
Cultural city of Coquimbo – with Eiffel's Church and bustling sea market
Day 3-4
At sea, enjoying the five-star comforts of Ocean Victory
Day 5-6
Chilean towns of Iquique and Arica – free ports for Bolivian trade
Day 7-10
Peruvian calls in Paracas, Callao and Trujillo. Excursion to Lima (not included).
Day 11-13
Along the coast of Ecuador with visits to Manta and Island of La Plata
Day 14
At sea, crossing Golf of Panama
Day 15-16
Natural wonders of Granito de Oro and Golfito Bay – white beaches and dense jungle
Day 17
Arrival in Puntarenas, Costa Rica - disembarkation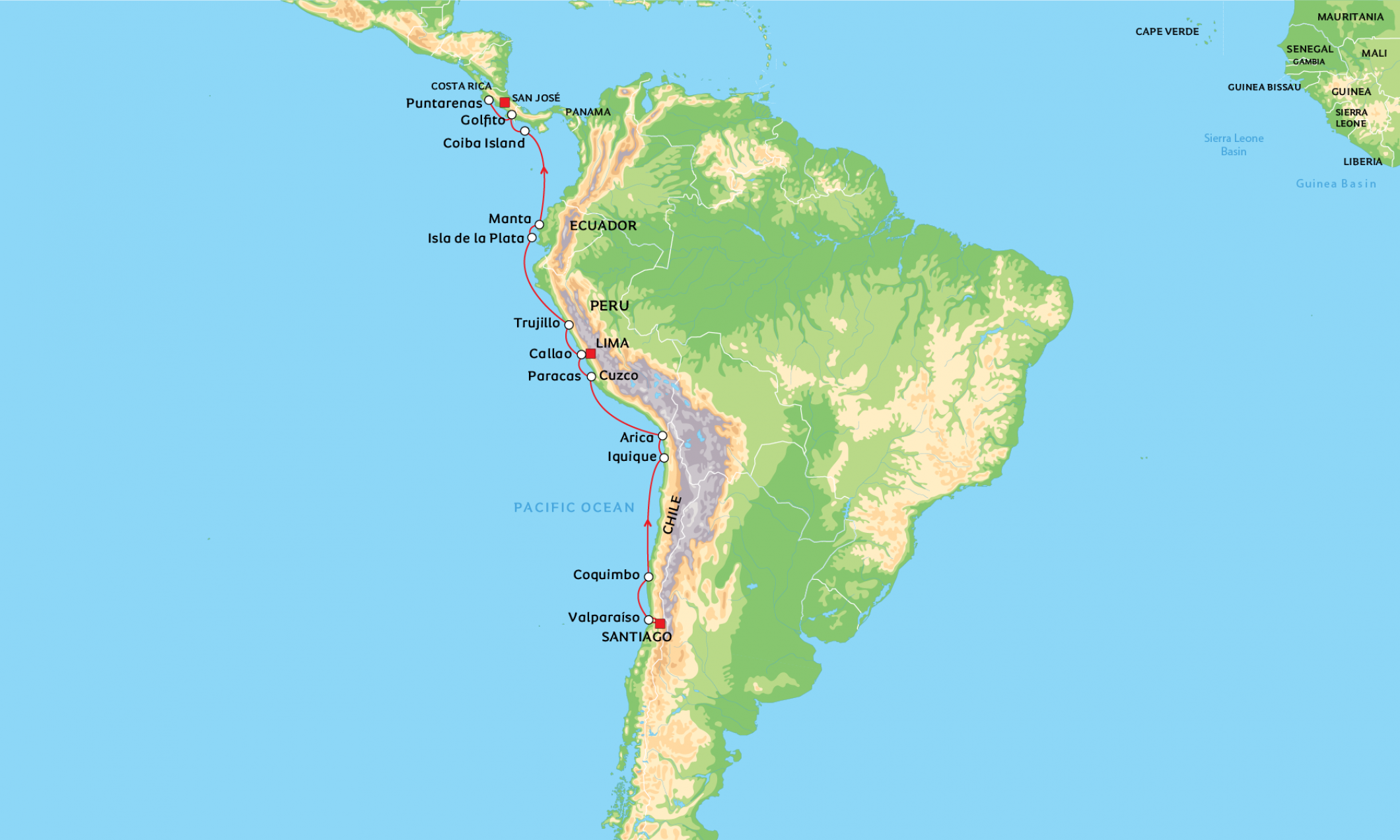 Inclusions
17-days´ cruise with accommodation in a shared outside double cabin with private facilities – 90% with balcony
All Zodiac landings and excursions as per itinerary
Guiding and lectures by our expedition leader and team
Near-shore guided walks in towns and settlements
English-speaking expedition team
Full board on the ship - breakfast, lunch, dinner and afternoon tea
Free tea and coffee 24 hours' daily
Taxes and portfees
 Guiding and lectures by our experienced expedition leader and team
Special photo workshop
Welcome and farewell cocktails
Digital visual journal link after voyage, including voyage log, gallery, species list and more!
Exclusions