Epic adventure: Antarctica and the Circle, Weddell Sea, South Georgia and Falklands
Next Departure

Feb. 24, 2023

See all departures

Duration

22 days

See the itinerary

Activities

,

Kayaking

,

Lectures

,

Photography

,

Zodiac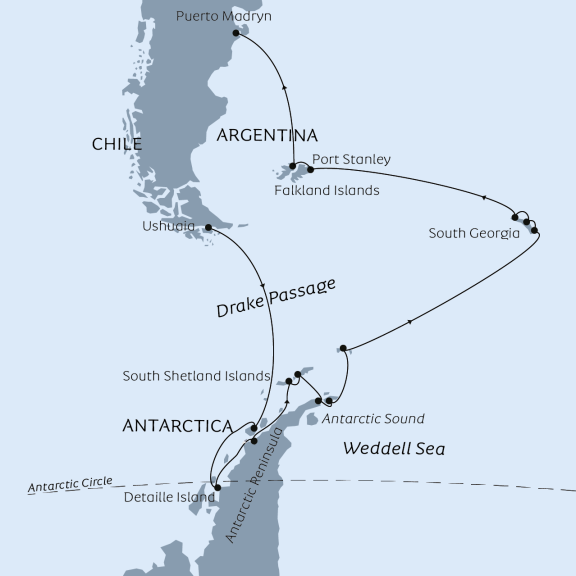 On this truly epic 22-day voyage, follow in the wake of courageous explorers as we cross the Antarctic Circle, visit the Peninsula and explore the South Shetlands before heading via the Antarctic Sound and Weddell Sea to South Georgia and Falkland Islands.
Departing Ushuaia in Argentina, we cross the mighty Drake Passage en route for the South Shetland Islands. Here we will make Zodiac landings at penguin rookeries, research stations and fascinating lookouts. Continuing onward, we enjoy the calming silence and alluring beauty of the Antarctic mainland during hikes and Zodiac excursions. Crossing the Antarctic Circle at 66°33′ south is our first goal. Here, the sun is up for 24-hours a day during the austral summer. Our expedition may include visits to sites such as Pleneau and Petermann Islands, Crystal Sound and Fish Island.
Continuing onwards, we will explore the Antarctic Sound with its mighty tabular icebergs and enter the Weddell Sea in search for wildlife.
As we pass between Elephant Island and South Georgia we are offered a small glimpse into the passage made famous by Shackleton 100 years ago, when he navigated the 1300 km course through open seas of Drake Passage in an effort to save his stranded crew. South Georgia is one of world's greatest natural wonders. Wildlife-packed beaches, active research stations, former whaling stations and a visit to Shackleton's final resting place is on our agenda.
On our last leg towards Argentina, we will pay a visit to the fascinating Falkland Islands. The capital of Port Stanley with its quaint English architecture will be our first call before venturing further west for Zodiac landings and wildlife observations on pristine and sheltered beaches.
After leaving the Falklands, the last seadays can be spent bird watching from the top deck and attending lectures, workshops and photo re-caps in one of the ship's lounges.





















Day 1
ARRIVAL AND EMBARKATION IN USHUAIA
Arrive and embark in Ushuaia, Argentina - the world's southernmost town. Explore the quaint city or local countryside. Alternatively, consider a day trip off the beaten path to the raw, natural archipelago of Tierra del Fuego. It's a hiker's paradise with rugged snow-capped mountains, glaciers, flower-filled meadows and boggy quagmires. In the afternoon, we board our ship.
Our journey begins as we navigate through the calms of Beagle Channel, a strait in the Tierra del Fuego Archipelago.
Day 2-3
AT SEA - CROSS DRAKE PASSAGE
Sailing onward, we cross the famed Drake Passage - a body of water that marks the intersection of the cold Antarctic with the warmer Atlantic and Pacific Oceans. Drake Passage is known for rollicking conditions and strong westerly winds, called the Roaring Fifties. While this passage may be challenging, you can rest confidently aboard our expedition vessel, which is purpose-built with stabilizers, powerful engines and a highly-qualified crew. The most spirited sailors consider Drake Passage a lifetime achievement, and you will complete the crossing twice!
In the Drake, the excitement builds as Antarctic wildlife comes into view. Weather permitting, we will catch our first sight of seals and penguins! The area is also well-know for its abundance of birds.
Day 4-9
South Shetland Islands, the Peninsula, Crossing the Circle, the ANTARCTIC SOUND AND the WEDDELL SEA
In the first few days, we will begin the exciting Antarctic experience our ancestors only dreamed of. During these days we will explore the sub-Antarctic islands of the South Shetland chain and be marveled by the captivating landscapes we will encounter along the way.
Weather permitting, our projected landfalls include: King George Island; Deception Island, an extinct volcano with waters warm enough for a polar swim; and Half Moon Island with nesting Wilson's storm petrels and chinstrap penguins.
As the white shimmer of Antarctica looms on our horizon, the presence of wildlife multiples by tens of thousands with many species of lively penguins, inquisitive seals, nesting birds and the spray of marine mammals. 
Wildlife abounds along our projected route along the Antarctic Peninsula: leopard, fur and Weddell seals of Cuverville Island; humpback whales of Gerlache Strait; Paradise Bay; the dramatic Lemaire Channel's orcas and much more. We explore as far south as possible towards the Antarctic Circle at c. 66 deg 33 minutes south of the Equator. Possible landfalls in this wild and seldom visited area could be Pleneau and Petermann Islands, Crystal Sound and Detaille Island. We will also visit research stations if ice conditions allow us.
Then we will continue the exciting Antarctic experience at the very tip of the Continent. During these days in the Antarctic Sound, named in 1902 after the Swedish vessel Antarctic, the captain and the expedition team will keep a watchful eye on the mighty tabular icebergs, born from the floating Larsen Ice Shelf further south. We aim to have both continental and island landings on the shores of Antarctic Sound and Weddell Sea, always on the lookout for some of the unusually large penguin colonies, which have recently been observed.
The itinerary and activities over the next few days depend on weather and ice conditions. The route and shore landings will be determined by the Captain and Expedition Leader and communicated to the guests through regularly scheduled briefings.
Day 10-15
DRAKE PASSAGE AND SOUTH GEORGIA
From the Weddell Sea we continue our journey into the open sea, just as Ernest Shackleton and his men did more than hundred years ago. Having lost their ship Endurance deep south in the Weddell Sea they moved slowly north on ice floes and later in open lifeboats until they reached Elephant Island. From here started one of the most remarkable boat journeys in the polar history, when Shackleton and five of his men for two weeks navigated the 720 nautical miles to South Georgia to call for recovery of the stranded crew on Elephant Island. We on the other hand will reach the mighty South Georgia after just a few days at sea!
South Georgia offers stunning wildlife experiences with a wealth of breeding penguins, sea birds, sea lions and seals, all seeking shelter in this oasis amidst the roaring Southern Ocean. Previous whaling history pops up in most of fjords we will explorer – not least in Grytviken the only inhabited settlement on this mountainous island. Grytviken is also the last resting place for Ernest Shackleton, after he died on yet another Antarctica voyage in 1922. We will explorer the fjords of the north coast for 2-3 days and take as many shore landings as time and the swelling sea will allow us.
Day 16-17
SOUTH ATLANTIC, APPROACHING FALKLAND ISLANDS
Days at sea are great for participating in lectures and and other activities hosted by the expedition team, reading books in the ship library and watching the ubiquitous storm petrels and albatrosses from top deck. Or just to relax.
Day 18-19
PORT STANLEY AND FALKLAND ISLANDS
During the morning we approach Falkland Islands and in the early afternoon we will cast anchor the sheltered natural harbor of Port Stanley. Utilizing our Zodiacs, we will land in town center, and take a leisurely stroll through the streets of Stanley.
On the following day we will make landings – weather permitting – at two of the islands' many magnificent wildlife spots.
Day 20-22
AT SEA TOWARD SOUTH AMERICA. Puerto Madryn, DISEMBARKATION
We are now into the last leg of this adventurous voyage, heading to Puerto Madryn.
After a hearty farewell to vessel and crew, we disembark in the morning after breakfast.
Inclusions
22-days/21 nights cruise with accommodation in a shared double stateroom featuring ensuite facilities
All Zodiac landings and excursions as per itinerary
Expedition parka
Rubber boot on loan
Guiding and lectures by our expedition leader and team
Special Photo Workshop
English-speaking expedition team
Visual Journal link after voyage including voyage log, gallery, maps, species list and more!
Full board on the ship - breakfast, lunch, dinner and afternoon snacks
Free tea and coffee 24 hours daily
Welcome and farewell cocktails
Port and authority fees and taxes
Exclusions
Extra excursions and activities not mentioned in the itinerary
Single room supplement and cabin upgrades
Meals not on board the ship
Beverages (other than coffee and tea)
Tips for the crew (we recommend USD 14 per person per day)
Personal expenses
Anything not mentioned under 'Inclusions'
Please keep in mind, the itinerary and outdoor activities during each voyage are solely dependent on weather and operational conditions to ensure the safety and quality of experience of our guests. The route and shore landings will be determined by the captain and expedition leader and communicated to guests through regularly scheduled briefings. Albatros Expeditions reserves the right to modify the landings and locations visited during a voyage based on weather and local conditions and climate to ensure a safe and delightful experience for all our guests and staff. Our trips are expeditionary in nature, and thus changes to timings are common place due to the environment we operate in as well as wildlife opportunities and locations.
Optional excursions
Glide through the waters and take in the royal grace of the icebergs, see the varied birds and seals, and maybe even the whales in their natural habitat under the supervision of experienced kayak guides, who will...
Departure dates
D Cabin price 14.990 USD per person in a shared DBL/TWN cabin
Expedition activities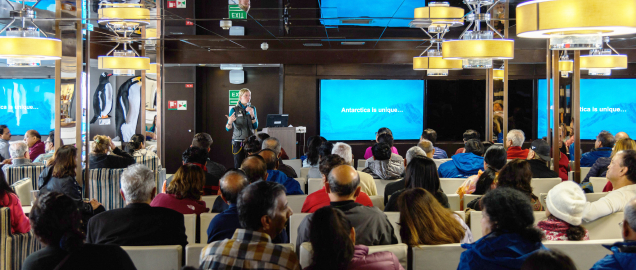 Our primary focus is knowledge, and we apply this to every aspect of a journey. From the staff that forms our expedition team, to the routes our ship follows, and of course, the program onboard.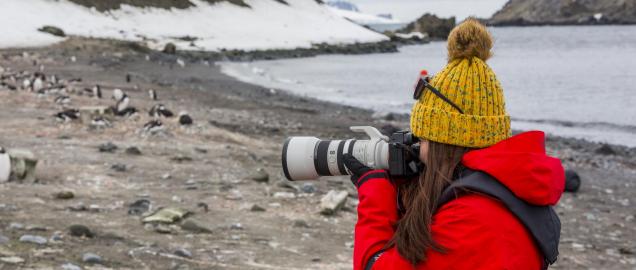 We always have a dedicated expedition photographer onboard to document the voyage and share their passion for photography through lectures and during landings and zodiac cruises.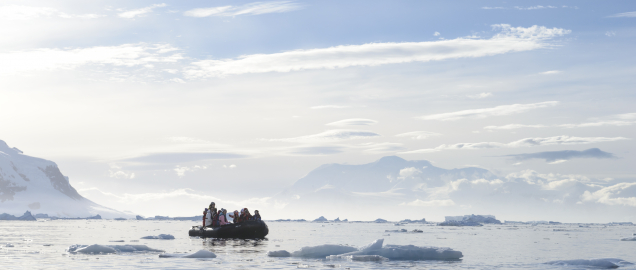 Essential for expedition cruises, Zodiacs are robust boats that can go up on a beach, a rocky outcrop, a river bank or even an ice floe push through bergy bits of ice floating in the water. This is definitely one...